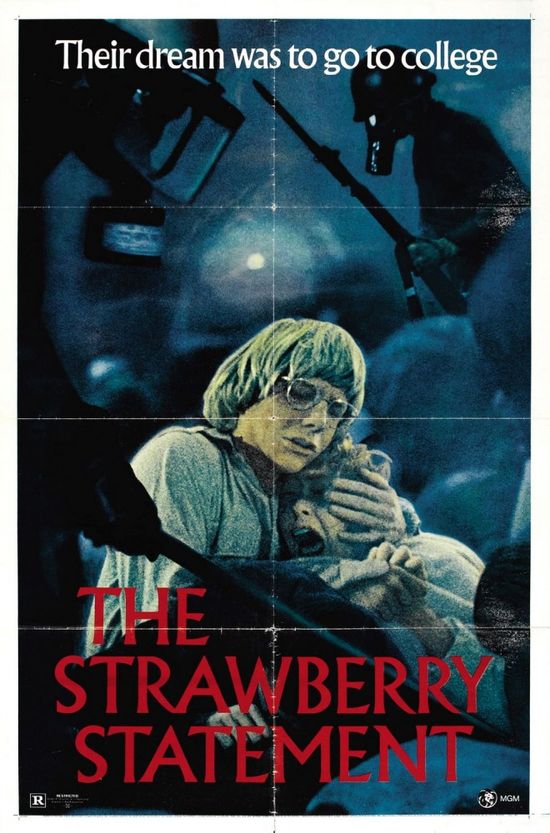 Year: 1970
Duration: 01:48:37
Directed by: Stuart Hagmann
Actors: Bruce Davison, Kim Darby, Bud Cort
Language: English
Country: USA
Also known as: Morangos Amargos (Portugal)
Description: Simon is at the University, part of the rowing team and attempting a documentary about the student protests.
His curiosity about the occupation of the campus comes more from the chance to meet girls than real political conviction.
However, his conscience becomes more alert and he rises to a leader of the protests that will end in a confront with the police forces.
1.57GB XVID OF STUART HAGMANN'S 1970 FILM, THE STRAWBERRY STATEMENT STARRING BRUCE DAVISON, KIM DARBY, BUD CORT, MURRAY MACLEOD, BOB BALABAN, JAMES COCO, ISRAEL HOROVITZ, JEANNIE BERLIN, JESS WALTON, ANDREW PARKS, KRISTIN VAN BUREN, DAVID DUKES, PAUL WILSON AND BERT REMSEN. INCLUDES A SCREENPLAY BY ISRAEL HOROVITZ AND BASED ON JAMES KUNEN'S NOVEL.
A VERY HIPPIE/PROTEST FILM THAT HOLDS UP THE SAME AS IT DID WHEN RELEASED, WHICH IS A RUSHED PIECE OF PROPAGANDA THAT MEANDERS AND DOESN'T FOCUS ON ANYTHING IN PARTICULAR. STILL, GOOD PERFORMANCE FROM DAVISON, A NICE TOPLESS BLOWJOB SCENE BY A BUXOM BLONDE AND SOME GREAT TUNES FROM CSNY, THUNDERCLAP NEWMAN AND SOLO NEIL YOUNG MAKE IT A NICE CURIO TO CHECK OUT.
Screenshots
Download