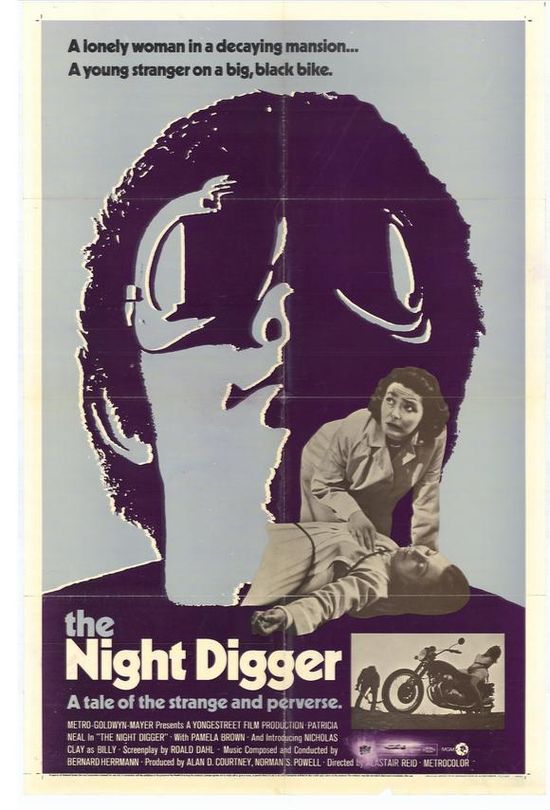 Year: 1971
Duration: 1:37:31
Directed by: Alastair Reid
Actors:  Patricia Neal, Pamela Brown, Nicholas Clay, Jean Anderson, Graham Crowden, Yootha Joyce, Peter Sallis, Brigit Forsyth, Sebastian Breaks, Diana Patrick, Jenny McCracken, Bruce Myles, Zoe Alexander, Christopher Reynalds, Elaine Ives-Cameron
Language: English
Country: UK
Also known as: Paixão e Crime, El enterrador nocturno, The Road Builder, Az ásós gyilkos, Das Haus der Schatten
Description: Co-written by Roald Dahl (author of James and the Giant Peach, Charlie and the Chocolate Factory, Matilda, and more), the film follows spinster Maura Prince and the twenty year old motorcycling drifter, Billy Jarvis. To Maura's dismay, her blind adoptive mother, Edith, becomes captivated by young Billy, enough for him to become a member of the household. Although Maura can see through Billy's stories, she befriends him.  Unbeknownst to the Edith and Maura, his private obsession will soon come to the surface.
1.46GB XVID OF ALISTAIR REID'S 1971 UK THRILLER, THE NIGHT DIGGER (AKA THE ROAD BUILDER) STARRING PATRICIA NEAL, PAMELA BROWN, NICHOLAS CLAY, JEAN ANDERSON AND GRAHAM CROWDEN. ADAPTED FROM JOY COWLEY'S NOVEL BY ROALD DAHL (PATRICIA NEAL WAS HIS WIFE).
ATMOSPHERIC, EERIE FILM IS A VERY GOOD HIDDEN GEM. NEAL GIVES A REMARKABLE PERFORMANCE AND HAVING NAMES LIKE REID AND DAHL ATTACHED TO THIS MAKES IT ONE OF THOSE GREAT UK THRILLERS. REMASTERED FOR THE WARNER ARCHIVES RELEASE.
Screenshots:
Download: