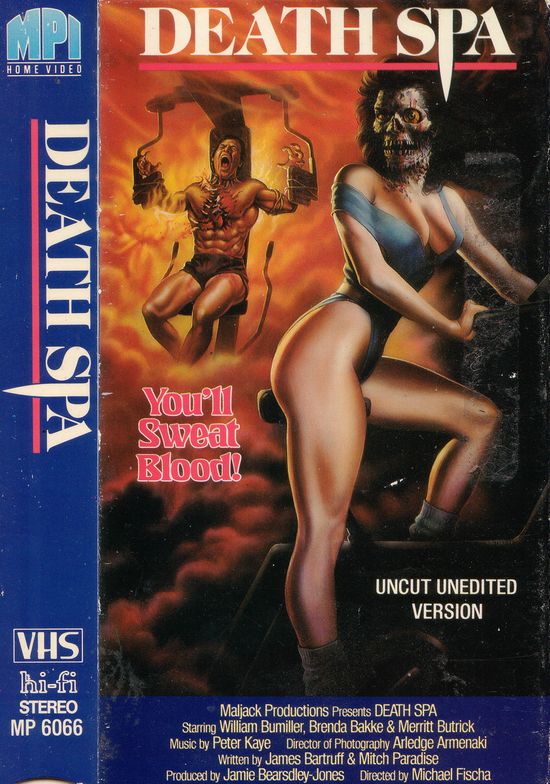 Year: 1989
Duration: 01:23:38
Directed by: Michael Fischa
Actors: William Bumiller, Brenda Bakke, Merritt Butrick
Language: English
Country: USA
Also known as: Witch Bitch, Spa Diabólico, Perra bruja, Witch Bitch – Tod aus dem Jenseits
Description: As is known from love to hate one step . And what if a person dies, his soul does not find peace , returns to earth ghost, how many fold increase bile then rabid hatred for the beloved , surviving ? That's actually this is the main core of the film .
Initially, the movie seems to average slasher . And no wonder – the first third of the full given under the direction of these things . It has only a two interesting clauses : the first – the scene purely spa, and the second – full owner of action is a mystical background . Thus, all the incremental killings made ​​in the original spirit of using sports equipment and a specific situation , such as red-hot sauna rooms or covered by wild poltergeist shower , of course, to the delight of the female half of the male audience. And with good swirling intrigue , where it is unclear what exactly is a catalyst for the mysterious accidents? Indeed, the suspicion turns to several bowls of scales having every reason to commit atrocities. First, the main character and owner spa recently became a widower since his wife committed an act of self-immolation , not being able to be in a wheelchair. This leads to the trivial suspicions about the safety of a healthy psyche of the character . Secondly, the deceased has a twin brother who computer wizard who created a special safety space , where each door, camera surveillance , treatment area – all works from the main terminal under its control. Brotherly revenge motive too great, so that the viewer entangled in conjectures . So also , thirdly, obviously occur mystical glimpses : you turn away a nut on the trampoline at the pool , the pipe burst which hot steam …
Summing multiple elicitation story intrigue expect that the director will have great led by the nose , giving the riddle for a mystery , and even hiding behind the scenes , which is the true identity of the culprit. But, alas, did , upon the occurrence of the second period of the film, when getting into the act of police detectives , the investigation is reduced to zero and frankly subside mask off. It is unclear why it was so fast to deprive viewers of options to solve the puzzle , creating a full straight ghostly horror ? ..
Therefore soon bulges forward hackneyed slasher with clumsy grace , but ghostly mystical basis . And once we have before us only slasher with a succession of murders unwritten law – especially girls, I need to parse the execution set scenes. They got no hangups that pleases and constantly spurs attention and inclusion of magical powers a ghost dressed in white helps to achieve decent visual results. Definitely memorable brush exploded with a revolver into small pieces , or " mad" mixer. Other rustic same footage on the contrary idea. However, sometimes there is a claim to originality and a sudden shock time , and sometimes the fuse is markedly reduced.
Review:
Screenshots:
Download: