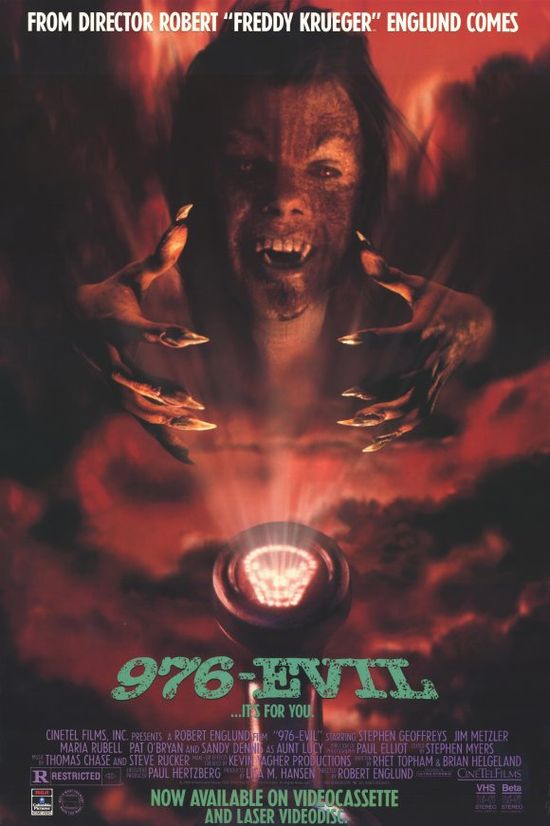 Year: 1988
Duration: 01:34:28
Directed by: Robert Englund 
Actors:  Stephen Geoffreys, Patrick O'Bryan, Sandy Dennis 
Language: English
Country: USA
Also known as: Dial the Devil, La ligne du diable, 976 – A Sátán hívószáma, 976 – Chiamata per il diavolo, 976 – El teléfono del infierno, Força Demoníaca Brazil, Horrorscope, La llamada del diablo, Llamada siniestra , Puhelu helvetistä
Description: Hoaks young – the average teenager with a bunch of problems, which can be called a complete failure. But everything changes when he catches the eye of advertising with a proposal by calling 976-EVIL and get some unusual services.
Hero dials no idea that seeking help straight to hell! And there are willing to put at the service of all the powers of hell Hoaksu … But the services are paid. And you know what the price is. But the character seems to have forgotten than paying those usual
Review: For me, this is a film of childhood, while really scared. I think that the film deserves a little more praise than it is now in the rating of the film, because it is not necessary to compare the quality of horror films the 80s and the present day.
Acting is not bad, each character a fun and sometimes funny way: for example, the boy and his mother fool, and windy and attractive Spike please even modern girls. Costume and make-up artists also tried: the image of the blonde in a short skirt looks great, with claws made ​​very interesting.
Of course the film 976 EVIL is not scary scene with fear and fury characters look funny and often incoherent: theater crowding at the hands of strangulation or truly diabolical act – shock tube through which creep frightened heroes)
For its time, the film 976 EVIL is not bad, check out this old horror lovers.
Screenshots:
Download: