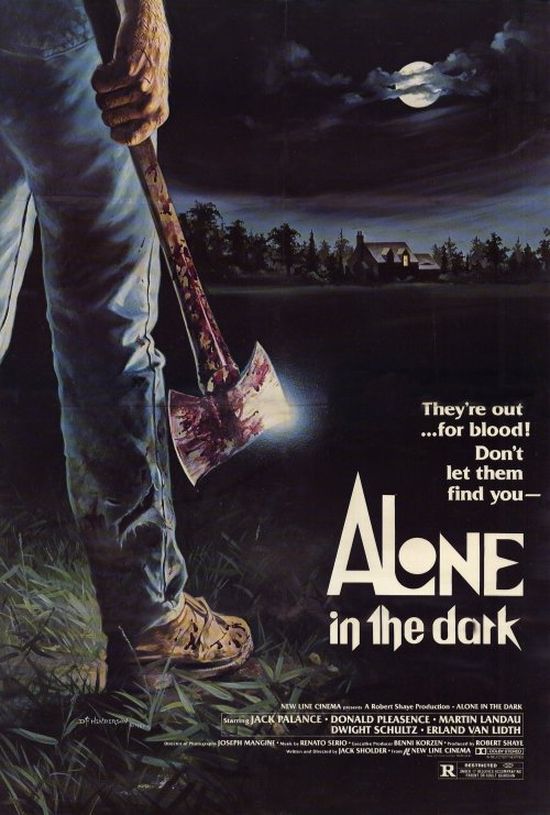 Year: 1982
Duration: 01:33:30
Directed by: Jack Sholder
Actors:  Jack Palance, Donald Pleasence, Martin Landau, Dwight Schultz, Erland van Lidth
Language: English
Country: USA
Also known as: Alene i mørket, Alleen in het donker, Apodrasi apo ti folia tou koukou, Ausbruch der wilden Wölfe, Solos en la oscuridad
Description: Dr. Dan Potter (Dwight Schultz) has just moved with his family and his sister, who is recovering from a recent nervous breakdown, to a new home in upstate New York, where he is to be the new psychiatrist for a privately owned asylum run by the controversial and amiably mad Dr. Leo Bain (Donald Pleasance), a pot-smoking eccentric who thinks even the most violent of his inmates are simply 'voyagers' on a mental journey, although the state officials have still insisted that he install a state-of-the-art electronic security system for the third floor of his institute where the most dangerous lunatics are kept.
Unfortunately for the new doctor, four of the most homicidally deranged of Dr. Leo's 'voyagers' have immediately convinced themselves that Doctor Potter has murdered their previous psychiatrist in order to take his place, and plans on killing them next.  Crazed and methodical ex-soldier Frank Hawkes (Jack Palance who participated in such film as Chato's Land), murderous pyromaniac Byron 'Preacher' Sutcliffe (Martin Landau, the star of the movie Sweet Revenge), gigantic child-rapist Ronald 'Fatty' Elster (Erland van Lidth) and animalistic serial killer John 'The Bleeder' Skaggs (Philip Clark) begin plotting their own revenge against Doc Potter and his family, restrained only by the high-tech security system that keeps them in their room.
Then, one night during a raging storm the power goes out all over town, causing a blackout which cuts the electricity to the asylum, releasing the four psychopaths into the midst of civilian looting and chaos and allowing them to act on their sinister plan.
Screenshots:
Download: