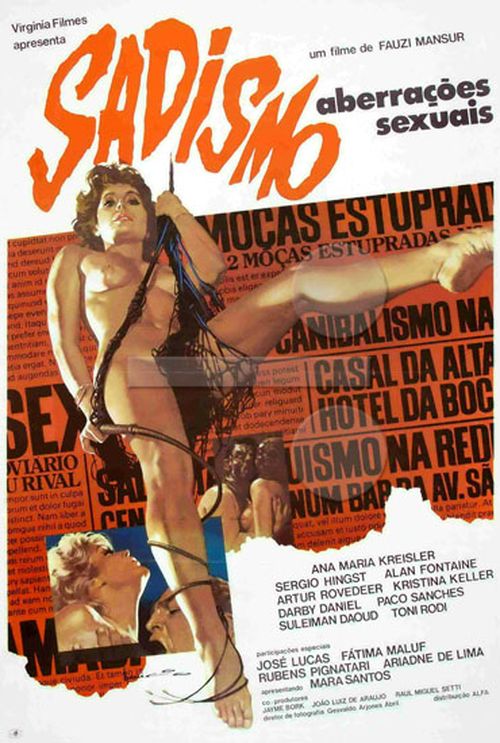 Year: 1981
Duration: 01:50:00
Directed by:  Fauzi Mansur
Actors: Carlos Bucka, Darby Daniel, Suleiman Daoud
Language: Portuguese

Country: Brazil

Also known as: 
Description: Classic Boca do Lixo crime drama directed by one of its most prolific authors, Fauzi Mansur, with a cast of amazingly beautiful actresses as Ana Maria kreisler, Aryadne de Lima who ended up doing porn), Taya Fatoon (who changed her name and married a tycoon and wants her career erased) and many others charcater actors whose faces are recognizable from dozens of Brazilian films.
It tells the story of Joana, who after an acident looses her memory and can't walk anymore. Along with her nephew Martinha, they develop and execute sxual fantasies by what they read on the newspapers. Theiy make their home a homel in where they can spy the couples who book e rooms. Things change with lethal consequences after Joana's memory starts to come back.
By 1981 Braziliam cinema was in the verge of hardore, and Sadismo is a fine example of it.
Review: Confined to a wheelchair woman looking at the world through the tabloid headlines. Articles lurking under screaming titles give birth in her mind painful sexual fantasies mix with real memories of the incident that led to the current situation unfortunate. Meanwhile, the man she once loved, and because of which was ready for anything coming out of prison, and now the reality may be more dangerous than the most violent fantasies …
Screenshots:
Download: