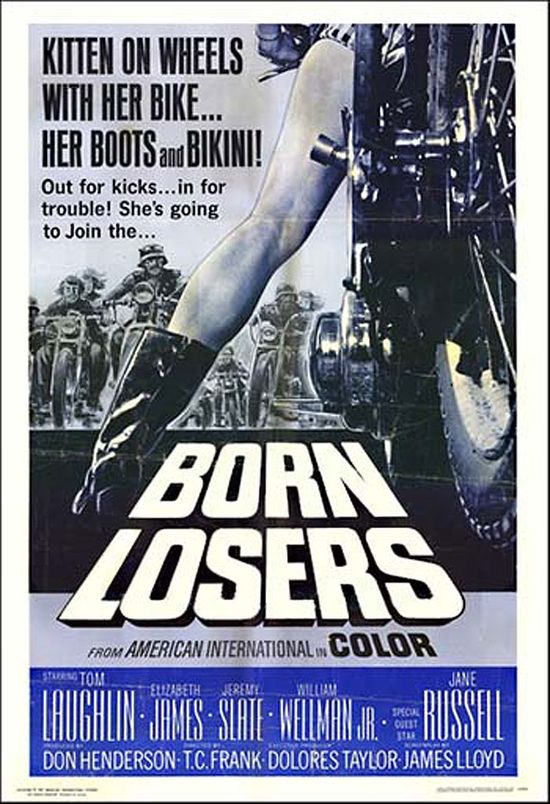 Year: 1967
Duration: 01:52:57
Directed by: Tom Laughlin
Actors: Tom Laughlin, Elizabeth James, Jeremy Slate, William Wellman Jr. and Jack Starrett
Language: English
Country: USA
Also known as: Engel der Hölle, Le crédo de la violence, Stracency, Violence
Description: Rockers gang terrorizes a small American town. Outside the city, they have a house for sex orgies, where they raped young girls and injected them diffrent drugs. Residents of the town are afraid of them, but the former worker Billy Jack, known as "The Indian" is not afraid of crooks …
Review: "The Born Losers" was were relatively long, but it left a pleasant experience. Despite the apparent slowness of it is quite interesting to watch, besides it completely falls under the category of "rape and revenge" (you'd be surprised, but in the movies called Grindhouse bikers).
The same pattern has gone further than any others because of rated PG (to be honest, do not really understand, because there is enough violence, plus a couple of naked women is) he has earned an impressive money in theaters, which allowed director and starring Tom Laughlin continue the cycle of Billy Jack has three pictures. About the quality, maybe talk another time, but for now – the first film of the series.
Sam Tom Laughlin, as already mentioned, in addition to directing himself took a leading role. This is Billy Jack, nicknamed Injun, calm and cool cowboy of our time. If it continues to draw a parallel, the Indians here are the bikers and their horses, respectively, motorcycles. However, there is one "but" – is unlikely to keep these Indians in the country mansion, which create all sorts of debauchery and violence threatened the girls, so they do not try to give evidence against them.
"Born Misfits" are interesting, despite the rather hurried pace of the narrative. Which, however, is very often diluted with scenes of action (car chases and fights mostly). It is necessary to note the nature of good plans, and in general the camera work in general. Music, too happy, she western heroic and appropriate to the spirit of the picture.
Actors also fared well, pradva not all. Glavgeroinya – the girl came to the attention of bikers and seeks protection of Billy Jack, who also penetrated to her high feelings – did not cause me any particular emotion. But Laughlin starring calm and steadfast, and be sure to charge the final glavgadu bullet between the eyes. By the way, as for the bikers – they can come out and stereotyped, but not comical – scum like scum, but there is the storyline with the brother leader of the bikers, in which the viewer even try to call a sympathy. Though not particularly go, given that at the beginning of the film we are shown a scene where the bikers pretty severely crack down on a guy, "run over" on them.
On the whole, the movie is mind, the empty space is quite severe. But not too much, this is not over the top Laughlin, for which he thanks. And so – a rather curious film on bikers – not to avoid certain cliches of the genre, but stands head and shoulders above some of the samples.
Screenshots:
Download: