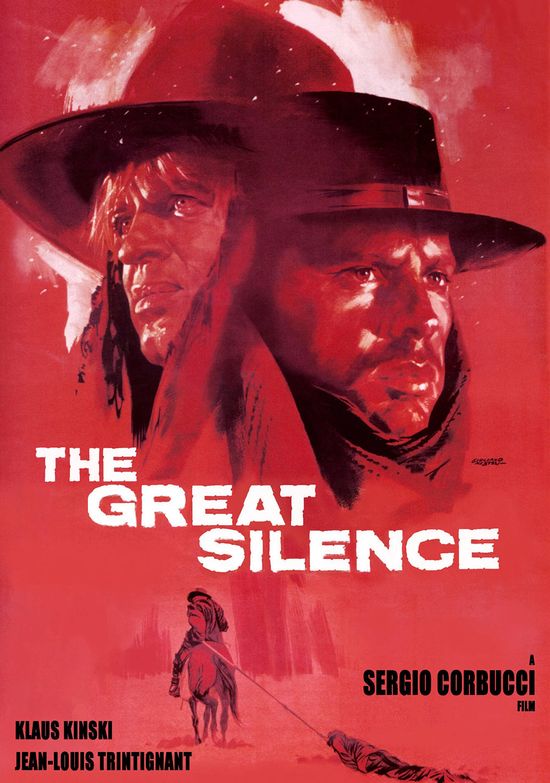 Year: 1968
Duration: 01:41:01
Directed by: Sergio Corbucci
Actors: Jean-Louis Trintignant, Klaus Kinski, Frank Wolff, Vonetta McGee and Marisa Merlini
Language: Italian (English subs)
Country: Italy | France
Also known as: Il grande silenzio, Den stumme hævner, Den tyste hämnaren, Le grand silence, Leichen pflastern seinen Weg, Leichen pflastern seinen Weg, Levend of dood
Description: " Great Silence " – after which you want the movie to recognize human language and unconventional best review of this movie could be a clean white sheet of paper. But Sergio Corbucci ink prints on it heroes dotted spray holds them routes , makes move, shoot , say , poured scarlet blood. And to point to bringing in one , get clogged in agony in the frosty air .
Sure hand calligrapher , he replaces the usual location for westerns warm , sandy colors, on the frozen , snow-covered desert. Thus, immediately making it clear that if about the same time, another Sergio [ Leone ] rethought mythology American westerns or movies Kurosawa minting of this alloy new characters and storylines , almost metaphysical essence. That Corbucci deconstructs already own spaggeti westerns , including movie itself Leone , bringing the " cowboy genre " almost to the extent of Greek tragedy. And in this respect around here mythology more than interesting.
" Rather, hell freezes over " as they say on the most unlikely possibility, though daily reality like should convince her otherwise . If there is a hell somewhere , then it is likely the familiar cold indifference than boilers with pans. Corbucci in this regard describes ideal underworld – the ruthless and cynical world of bounty hunters . " Mark is alive or dead ," vgryztsya hungry dog ​​as a reward , and, as you know, kill far more rational than to mess with the living . The season is open , every man for himself , and someone against all. To live in this abandoned , self-contained , self-sufficient populated by the same people and samostavlennymi , the world need to be cool , fast as possible – is not dead and will never ask for mercy. People here just as cold as the land of their breed , life is sold at a reasonable price and even love will not save anyone in this world. Does not save because there is no place for God, and usually taciturn protagonist, preferring speech shots here at all – dumb , and is problematic to give films of Bergman , nickname – Silence . His antagonist , on the contrary , talkative , only speaks purely in their own interests , and often wrong . But despite this , and the fact that it plays the most famous of " obsessed " world cinema – Klaus Kinski due to a lack of former Indian territories figures of the Christian God , not seen in this hero " father of lies" and local Lucifer. Name, hinting at the famous trickster from the pagan Norse pantheon, it suggests rather a part of some more ancient , the vital force of the ruling in these parts.
Life as a coin tosses . Obverse and reverse – the world ruled by the case , but in the end the outcome of one. " All according to the law ." Beyond the boundaries of this world or the player with a deck marked cards , or one who is silent forever . All the characters are outlined on pages scenario , cycling tracks and snowflakes cover the innocent and the guilty . Win scavengers . Bets are made – no more bets . Only silence , as an answer to a question not verbaliziruemy .
Screenshots:
Download: