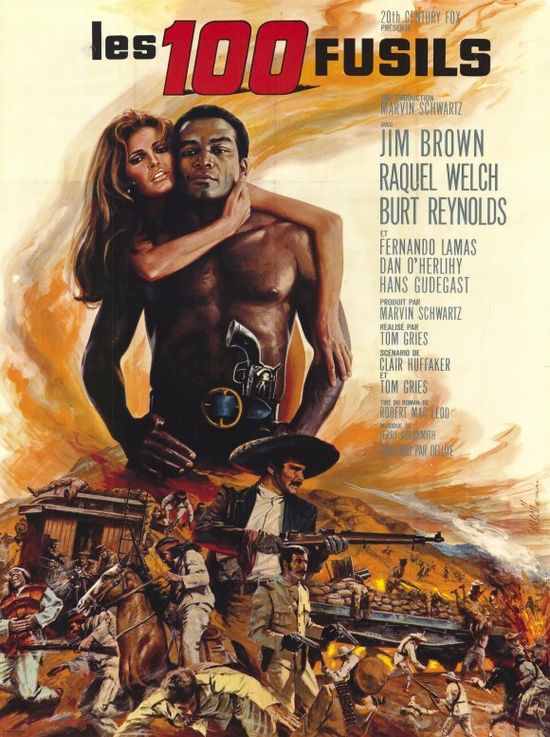 Year: 1969
Duration: 01:49:30
Directed by: Tom Gries
Actors: Jim Brown, Raquel Welch, Burt Reynolds and Fernando Lamas
Language: English
Country: USA
Also known as: De 100 geweren, Los 100 rifles, Les 100 fusils, El Verdugo
Description: Can one ever get enough Burt Reynolds? Here's a heaping helping of early Burt in 100 Rifles (1969) aka One Hundred Rifles with big Jim Brown and the red hot Raquel Welch.
One hundred rifles rebels to take a stand against the oppressors. For the sake of this noble goal robber-breed Yaks Joe (Crack House) steals from the Bank 6 000 dollars. But as soon as he returned to his home in the Mexican village, as advertised Lyedecker, stern guardian of the law of Arizona, who is not going to return home with empty hands.
Review: 100 Rifles is what I like to call a Pseudo-Spaghetti Western. It looks like spaghetti and sounds like spaghetti but deep down the movie isn't a bona fide Spaghetti Western. Much in the same way that Italian producers wanted to mimic the success of American westerns, American producers were by this point trying to cash in on the success of Italian westerns. The result were films like 100 Rifles. In this particular case, a western shot in Spain supported by a mix of Spanish and Italian cast and crew and geared towards an international audience. So why isn't this a Spaghetti Western in the truest sense? The film was produced by an American studio (20th Century Fox), had an American director at the helm and was scored by an American composer. Mere technicalities really considering just how spaghetti-like the film is.
Screenshots:
Download: