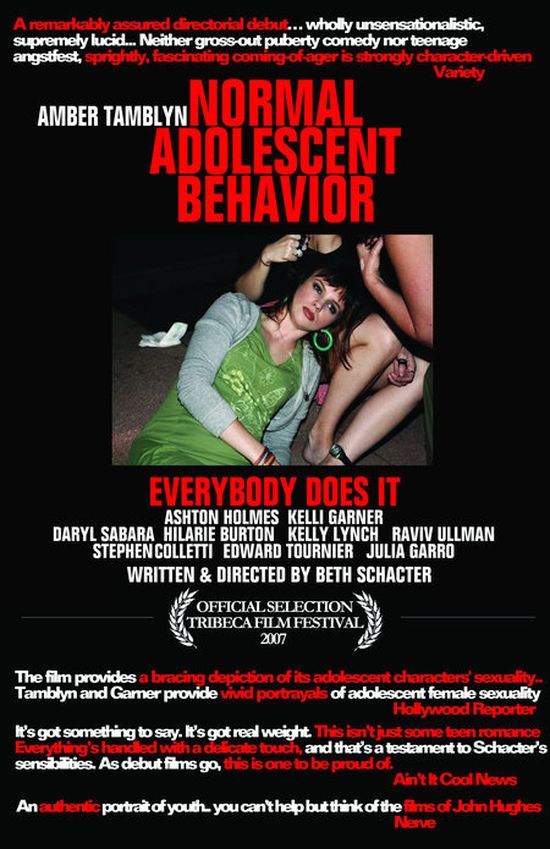 Year: 2007

Duration: 01:35:00
Directed by: Beth Schacter
Actors: Amber Tamblyn, Ashton Holmes, Kelli Garner, Daryl Sabara
Language: English
Country: USA
Also known as: A Story of a Teenager, Fucking Teens, Havoc 2: Normal Adolescent Behavior, Eine ganz normale Clique
Description: These adolescents have sweared to each other to stay together – with no apologies and regrets. But when one member falls in love with a person from the outside, it brings a whole series of problems. The group leader meets this news with cold and told clear that if someone decides to leave the group, he will become the enemy and will pay for it.
Review: This is not a typical film about teenagers, here you won't find any sugary moments and classic «Happy end».
The movie is awesome, it is so vital and real, that it's scares. "Normal Adolescent Behavior" tells us not just about teenagers, it tells about the loneliness that feels everyone, it says about the complexity of choice, about Wandy who is choosing between her friends, love and her parents. And, to my happiness, she made the right choice.
The film covers the problems of loneliness and self-confidence, which in adolescence seem to be hyper important. And in this "family" all these problems disappear. As Wendy said: "I ​​do not care if I'm pretty or not, and I'll never be lonely."
I believe that Wendy did not betray her friends, she just chose what attracted her, she chose love, which is more important than friendship.
Screenshots:
Download: