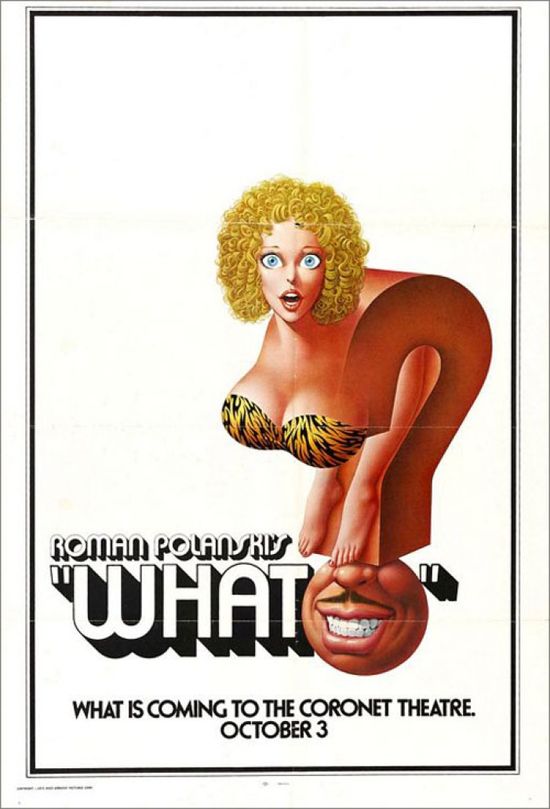 Year: 1972
Duration: 01:49:06
Directed by: Roman Polanski
Actors: Marcello Mastroianni, Sydne Rome, Hugh Griffith and Guido Alberti
Language: English | Italian | French
Country: Italy | France | West Germany
Also known as: Che?, Quoi?, Diary of Forbidden Dreams, Que?
Description: Innocence and sensibility of American tourists have long made ​​them heroes of jokes in most European countries. Pretty curious American who travels around the world, gets to Italy. Sense of adventure brings her to the fact that she, without belongings and documents, finds accommodation in a luxury resort hotel on the Mediterranean Sea. No one is surprised by an unusual guest – all busy with their own affairs and the decision of some absurd problems. Fatal aging handsome Alex takes care of the girl, which adds a lot of candid pages in her diary. But no clarity about everything happening!
Review: This painting is considered to be unsuccessful in Polanski, she was a fiasco as the critics and with the audience, but I think that the picture is much deeper than it may seem.
Plot. American tourist Nancy's trip to Italy, miraculously manages to escape from a group of young people whose chance she was a passenger and nearly raped. By chance it goes to a boarding house on the beach.
At first it seems to be a trivial comedy, which played upon bare chest Nancy that she had nothing to cover up because her luggage stolen, her worthless Italian, which all the surrounding poorly understood and all this causes a slight smile. The main character, which performs very well Sydne Rome, with a beautiful face and a little silly, so good that the uptake and claps, for all the action, long eyelashes, and white curls of her hair cute sway. All this is happening against the background of Italian landscapes: the sea, the sun, the flowers – it is a pleasure to watch. But all this is only a shell, under which lies the study director on the psychology of sexual behavior.
In order to understand the meaning of the picture should carefully analyze all the paradoxes.
1. A young girl is in a foreign country, unfamiliar to her place of the things she had only a diary and torn T-shirt and jeans, which will soon also be stolen. Why did not she beat in hysterics, in a difficult situation? If it is rational and reasonable people, which is unlikely, then why not go to the police is looking for their bags and not in a hurry to report to the embassy of the country? The behavior is so illogical that begs an answer: it is comfortable.
2. Nancy meets guest Alex (Mastroianni), nicknamed Coco mashed potatoes and almost immediately makes her a compliment: "My advice – watch the sun: dark nipples on milky breast truly pleasing to the eye." On the surface, he comes across as a professional womanizer, his behavior is so obvious that only an idiot would not understand his intentions. And the fact that he's a former pimp, its embarrassing. And yet, the girl barely a few hours before being raped, does not fail to respond to the invitation to visit his room. Do not you think it strange? That is, the author conveys the idea of ​​women's curiosity, which is stronger than common sense and self-preservation.
Moreover, prior to the meeting she visits the room where the live Tony and his friend, without interruption to copulate with his girlfriend, as well as arrogant and aggressive type of mosquito (played by Polanski himself). Once again, she is not afraid to be alone with strange men in a strange place. And despite the fact that out of her clothes on a short pajamas and a complete lack of underwear. Although outwardly it looks passive and does not cause men to contact her, however, based on the foregoing, her sexual behavior can be considered active, as she meekly accept all invitations.
3. Denying the obvious violence, she takes it in a hidden form (Sir Alex with his role-playing games) and enjoy it. It seems that these adventures just what she was looking for.
4. The film does not shy away and male sexual behavior.
Screenshots:
Download: