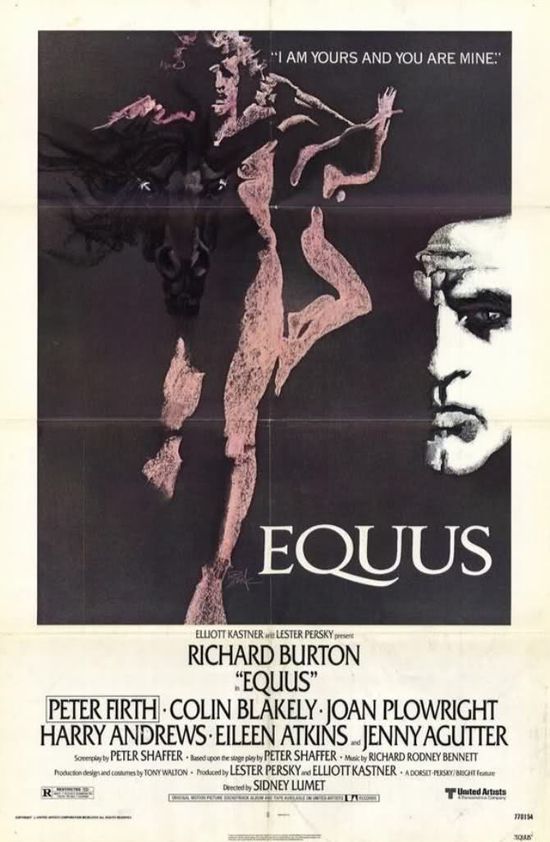 Year: 1977
Duration: 02:17:44
Directed by: Sidney Lumet
Actors: Richard Burton, Peter Firth, Colin Blakely
Language: English | English subtitles | French subtitles | Spanish subtitles
Country: USA | UK
Also known as: Fliehende Pferde (West Germany) | Hesteguden (Denmark)
Description: Six horses have been blinded with a metal spike. The guilty is a seventeen year old stable boy. A psychiatrist is called to discovered the reasons for this unnexpected attack. He will uncover the demons that can hide within even the most gentle soul, and in the process discover that he himself is haunted by such demons! From director of Strip Search movie
Review: The film "Equus" of those that, even then, more than 30 years ago, at the time of release, probably many found extremely boring, so much to talk about today? However, I, as a person, loving to see how someone is digging in the brain, pathologically changed personality, the film has caused a great interest.
To begin with, that it is extremely difficult to define the genre paintings: within the first hour of action as a psychiatric detective. But the detective typically deals with a certain crime: murder, theft, rape, and the task of the investigation is to find the criminal. Here we see a crime of a totally different sense: a young man cut out the eyes of six horses in the stables. Why this needs to be investigated.
The young man, whose name is Alan Strang. We see his family: his mother Dora extremely religious, and therefore raised him too unilaterally. Father Frank, apparently, had great influence on the boy. Their relationship seem extremely strained, what Frank blames it is the religion of Dora, he abides in a state of constant dissatisfaction.
On the wall in the room Alan, we see a portrait of a horse. In their family always cherished horses, and Alan was no exception. so why this happened? Parents are shocked, they do not understand the causes of the incident. Who he is: a maniac, a threat to society or a good boy, who just moved the devil, as according to his mother?
The role of the investigator here is a psychiatrist Martin Dysart that tries different ways to win the trust of a boy, because he is closed and is not going to anything to her. The film Equus is very instructive; it was interesting to know, what are the psychiatric tricks: games, hypnosis and others. Boy, of course, spoke, and that's how it was, I won't tell you: I wonder – are watching.
Screenshots:
Download: