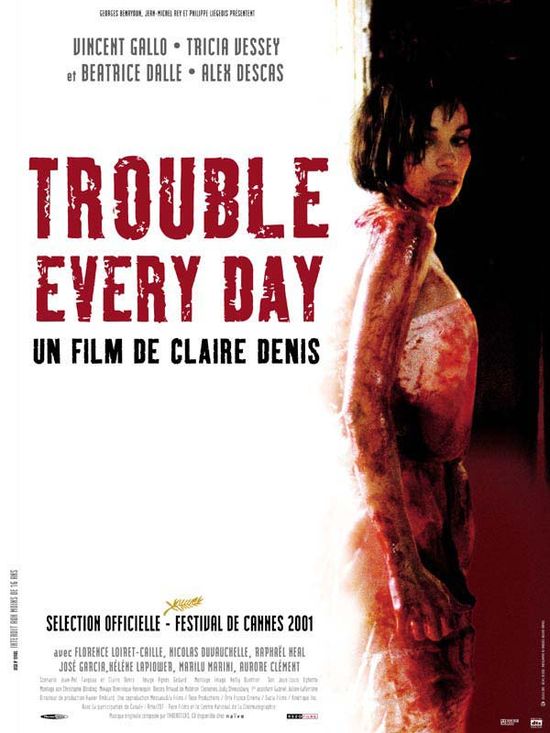 Year: 2001
Duration: 01:36:41
Directed by: Claire Denis
Actors: Vincent Gallo, Tricia Vessey, Béatrice Dalle
Language: French | English subtitles
Country: France | Germany | Japan
Also known as: Gargoyle (Japan – English Title) | Cannibal love – Mangiata viva (Italy)
Description: An american couple spending a second honeymoon in Paris to deal with their relationship as they are growing apart.
This happens because Shane needs regular trips to clinics where he submits himself to libido studies.
But the trip to Paris also serves for Shane to seek a self-exiled expert in the field.
But on seeking him, he meets the doctor's wife who suffers from the same sexual problems as Shane.
Their encounter has such a strong effect on them, that their actions become extreme, as that might just be the solution to Shane's marriage to June.
 Paris is definitely the most romantic city in the world , serves as a magnet lovebirds . And it is here from the bustling New York newlyweds came Shane and June Brown to spend their honeymoon. However busy thoughts Shane completely different , because in the recent past he was the victim of monstrous experiments Dr. Leo Semenov , as a result of which he became a cannibal . Soon he finds the wife of Dr. , Cora , possessed the same disease , but it is only the beginning in this strange love story.
The film " Every Day Trouble " filmed in 2001 by French female director Claire Denis. Tape is a mixture of melodrama and almost thrash cannibal horror , besides having a frank perverse nature . However , the film primarily about love , albeit in a naturalistic colors and creepy , love as destructive , destructive force of love, in which life and death are one and inseparable , love as an act of cannibalism , the absorption of one partner by another . Filmed operator Agnès Godard in otsranennoy author manner , with a slight touch of the documentary , in which the main characters are investigated director with interest and even sympathy.
Vincent Gallo beautifully played Shane , creating one of the most extraordinary images of their career . Extremely organically starred Cora famous French actress Béatrice Dalle , creates a truly frightening and eerie image , being central to the plot of the tape.
Soundtrack by Tindersticks masterfully creates an unusual tape eerie atmosphere soaked depression.
" Every day , the trouble " – custom horror author , tells of love under the extremely radical angle , which I recommend to all fans of auteur cinema and European horror films.
Screenshots:
Download: