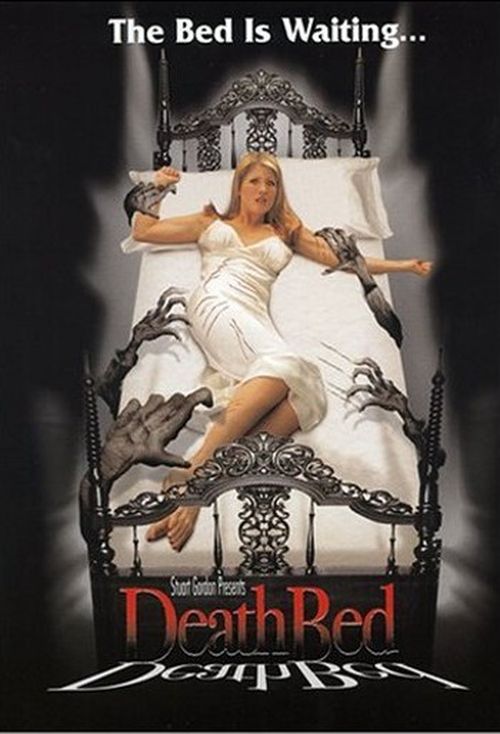 Year: 1977
Duration: 01:17:26
Directed by: George Barry

Actors: Demene Hall, William Russ, Julie Ritter

Language: English
Country: Czech Republic

Also known as: Death Bed: The Bed That Eats
Description: Bizarre and surreal horror movie from the 70's that's not as goofy as it sounds – I found that it has quite an interesting story line. Recommended.
Once the demon saw the river a beautiful girl and fell in love with her. And since in addition to the sex, he couldn't imagine anything else, by of his lustful thoughts materialized the bed.
Review: Movie of the sub-genre "of things-killers" can be divided into two categories. Either it is great, worth the time spent on his films (almost all movies about cars-killers), or strange, extraordinary poluvmenyaemy trash, where in an attempt to find fresh ideas, authors often assume all of the ("Killer Condom", "tire"). There is, in principle, movies, stuck somewhere in the middle ("Elevator"), but basically two categories clearly marked.
"On his death bed," at first just want to push in that span. On the one hand – the bed-killer that kind of nonsense. But on the other – you can try on that field and sow your sprout, unlike the others, it would diligence and faith in ourselves.
At first it seems that George Barry is there – let tape from the beginning gives us to understand that the script is not sane ran (I would place the men and women who have bed on the sly bottle of champagne and drank a bucket of wings devoured be pondered what had become food, for half a minute ago she was here). But visually the film looks like a good idea (probably affects old boy film, making the colors look brighter), and there are the beginnings of diligence, despite the budget deficit.
But the closer to the middle, the more clearly that the venture is unlikely to come something good – visuals are still normal, but the story suddenly starts throwing somewhere is not there: a guy whose soul is enclosed in a picture that -it says, and what – is unclear. His stories relate to the previous owners of the bed (a motley company of a priest to men who have an orgy), but it all starts to look somehow strange. The action of quite beautiful two-story castle without a declaration of war turns into a cellar, why – again, do not tell.
Screenshots:
Download: