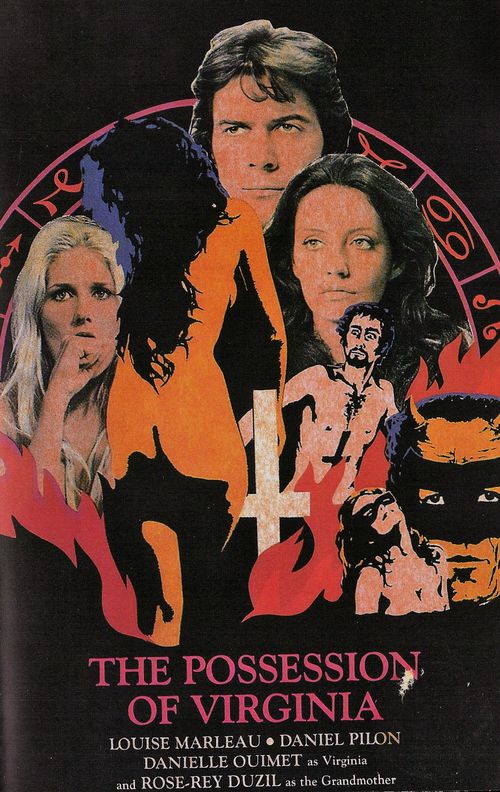 Year: 1972
Duration:01:29:21
Directed by: Jean Beaudin
Actors: Louise Marleau, Daniel Pilon, Danielle Ouimet
Language: English
Country: Canada
Also known as: Le diable est parmi nous (original title) | The Possession of Virginia
Description: Paul Drouin is a journalist investigating the suspicious suicide of a good friend of his.
He is taken into a tangle of even greater mystery when he reveals the photos of the place his friend was found dead and they all feature an old lady and rune writings made from blood.
The old lady starts creeping up everywhere he goes and Paul is lead further into the heart of a satanist group.
Produced by Cinepix founders John Dunning & Andre Link – who helped bring such beloved Canuxploitation fare as SHIVERS, RABID, DEATH WEEKEND, MY BLOODY VALENTINE and HAPPY BIRTHDAY TO ME to the big screen THE POSSESSION OF VIRGINIA was their first foray into the horror genre and one of Canada's first horror films.  Daniel Pilon (STARSHIP INVASIONS) stars as Paul, a Montreal journalist whose friend has just splattered on the sidewalk in front of his apartment.  Police rule it a suicide, but images of a creepy old woman photographed stooping over the corpse  propel Paul to investigate further.  He becomes involved with two women: the ethereal Virginia (Danielle Ouimet from DAUGHTERS OF DARKNESS) who was with his friend the night he died, and the beguiling Helene (Louise Marleau from CONTAMINATION), a noted musician.  As Paul's investigation deepens he soon realizes elements want him dead, and satanic forces are guiding him to a frightening destiny and an appointment with a Black Mass.
Screenshots
Download