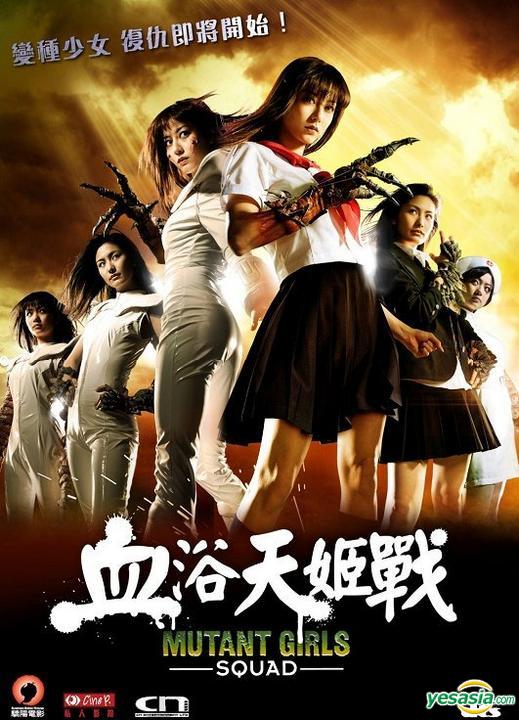 Year: 2010
Duration: 89 min

Directed by: Noboru Iguchi, Yoshihiro Nishimura, Tak Sakaguchi
Actors: Asami, Yoshihiro Nishimura, Noboru Iguchi
Language: Japanese Surround, Stereo | English Soft Subs

Country: Japan

Also known as: Sentô shôjo: Chi no tekkamen densetsu (Original Title)

Description: On her sixteenth birthday, Rin (Yumi Sugimoto), a bullied, timid schoolgirl witnesses her parents killed by fearful, anti-mutant humans. Rins dormant mutant abilities are awakened and she is driven away from her hometown by an angry mob. She meets other mutants called 'Hiruko', and teams up with Rei (Yuko Takayama), a hardarse, rebellious type, and Yoshie (Suzuka Morita), a cute nurse who is conflicted about killing humans. Tak Sakaguchi plays Kasagari, an evil mutant who has an impotent sword growing out of his stomach. Originally trained by Kasagari, the three girls turn against him and his drive to turn Japan into a human-free zone and must fight him and his other loyal mutant minions. In the tradition of 'Machine Girl' and 'Tokyo Gore Police'. ~IMDB1

Hilarious gore-fest that contains satire and hot Asian girls!
For a movie of this particular extreme genre, "Mutant Girls Squad" (or "Sentô shôjo: Chi no tekkamen densetsu") actually was somewhat more enjoyable than others in the same weird genre.
First of all, these movie was drenched in blood and outrageous gore, and it is done to an absurd extreme, so you should know that in advance. This genre is splatter extreme! But what made "Mutant Girls Squad" more enjoyable than many others was that the movie was focusing heavily on the story and the characters and not the blood, gore and mayhem only.
The storyline was actually really nice and it was easy to follow and immerse yourself into. Just keep in mind that most things here will be over-the-top-extreme. And the characters were well fleshed out and given great personalities.
I assume that having 3 splatter/gore directors coming together on one project was bound to be something great in the end.
There is a lot of really strange things in the movie, and it makes you wonder how they come up with that kind of stuff. I could mention things like the armed forces having machine guns mounted over their noses, or a mutant girl with a chainsaw coming out of her rectum, or a mutant girl with katana-blades extruding from her nipples. Yeah, it is quite extreme, but that is what this particular genre is all about: being extreme and doing things that haven't been done before, trying and succeeding in topping other films in the genre. ~IMDB2
Screenshots (Click to Enlarge)

Download
**Updated/fixed Version! No Green Line when using VLC**