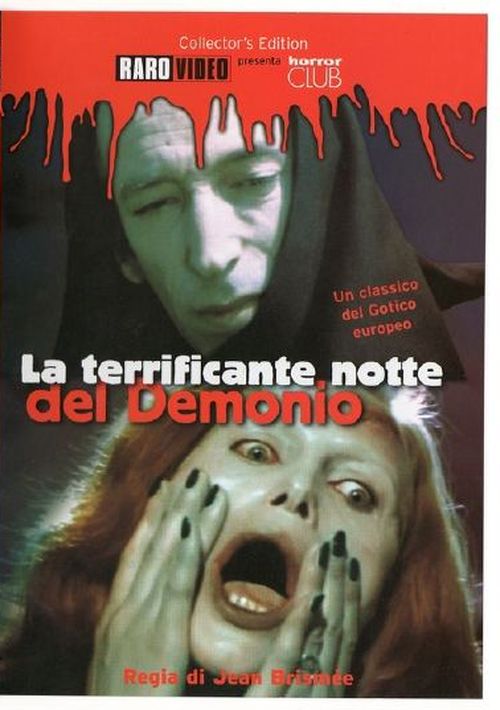 Year: 1971
Duration: 01:29:48
Directed by: Jean Brismée
Actors: Erika Blanc, Jean Servais, Daniel Emilfork
Language: French
Country: Belgium,Italy
Also known as: La plus longue nuit du diable
Description: Euro-sleaze fans take note. The movie begins in WW2 with plenty of stock footage of the war and a weird scene where a Nazi general, upset that his wife just gave birth to a baby girl instead of a boy, proceeds to do something horrid.
Flash forward twenty years and we find seven weary travelers (all based on a deadly sin) in a small bus who are invited to stay in a grand castle. Once there, they feast on delicious food and meet an eccentric Baron and his all-too creepy staff. All is well at first, but then a beautiful woman joins the party and heads start rolling.
Seven tourists stop for the night in the castle of Baron Ronberga. Each guest embodies one of the seven deadly sins. At night, they in turn killed by the daughter of Baron – succubus whose birth – the result of an ancient family of Baron pact with Devil.
Review: A lot of you have no doubt seen this great flick,  one of my favorites, what a tremendous atmosphere that builds and builds, fans of 70's Euro Horror, please grab this, yes, there aren't any subtiltles but the English dub track is pretty good,   enjoy.
Seventies, B-movie, Grindhouse. The classic horror film with Erika Blanc (Io, Emmanuelle and Mark of the Devil 2) with elements of mysticism. Lost tourists, the Gothic castle with a strange owner and servant, a terrible family curse, a gradual fanning the situation and, of course, the terrible murders that take place under cover of night. We can not say that the tape is replete with erotic scenes or scenes with a lot of red paint, but it is certainly present. The plot develops at the standard canons and, for a modern audience, perhaps, is as banal. But sophisticated filmgoers can see here the origins of many modern masterpieces. The same "Wishmaster" by R. Kurtzman, or "Seven" by D. Fincher has something in common with this picture. It is possible that their writers and directors were inspired precisely in "The longest night the devil," but we will not focus on this.
The film raises the eternal questions of sinful human nature. Everyone will be punished for their sins, if a succubus, an absurd coincidence, or the devil himself! The plot outline is all the time on the seven deadly sins of Christianity. Incidentally, these demonic creatures like succubi are rare guests in the cinematic bestiary. In this regard, the tape is the original challenge standardization essence of horror.
Let the picture does not shine enchanting performances by the cast, expensive sets and unexpected turns of the storyline, I would recommend it for viewing. Multi-layer atmosphere and classic horror tricks of her discharge, will not leave you indifferent. Horror should be frightening, mystery unspeakable – the mysterious, other-worldly.
Screenshots:
Download: