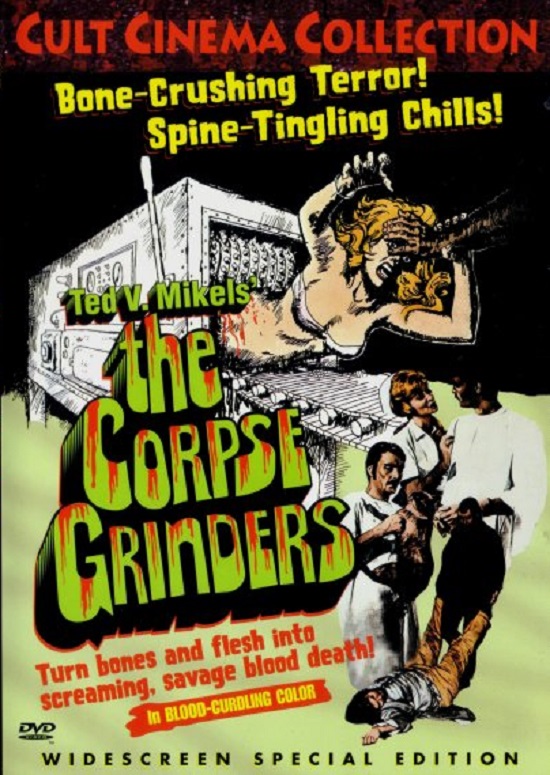 Year: 1972
Duration: 72 min.

Directed by: Ted V Mikels

Actors:  Sean Kenney, Monika Kelly, Sanford Mitchell
Language: English
Country: USA
Also known as: Night of the Howling Beast, The Flesh Grinders, Die Leichenmühle

Description: The original. The movie that topped most people's list of worst (as in poorly made) horror movies ever produced – until Todd Sheets came around, that is. It had an interesting premise carried out with all the professionalism and craft of a middle school a/v nerd. Think, Herschell Gordon Lewis without the blood. The titles, which look like they were drawn and colored in by a toddler, give the audience a excellent idea of what to expect.

A gourmet cat food company starts using cadavers as the main ingredient for their cat food. Inexplicably, this leads to many vicious attacks on humans by, um, cats…And wow those cat attacks are just so ferocious! Watch them with the sound on mute and it looks like the cats are purring while being petted on the head!
Trashy, absurdist, cheesy fun. A movie that really earns the 'so bad its good' description and not the 'so bad I turned it off in 5 minutes,' category that so many horror movies fall under. If only Herschell Gordon Lewis had actually supplied the blood, this might have been a great movie. Its sad that its referred to as Ted V Mikels' best work. Damn…
Screenshots
Download