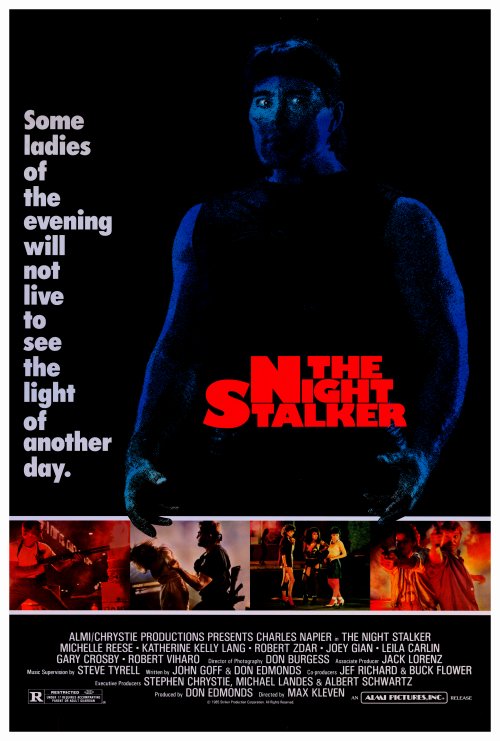 Year: 1986
Duration: 01:31:17
Directed by: Max Kleven
Actors: Charles Napier, Michelle Reese, Katherine Kelly Lang           
Language: English
Country: USA
Also known as: J.J. Stryker, The Man Who Could Not Be Killed, Rächer der Nacht
Description: Cool and not too law-abiding police officer is entrusted the task to hunt down a dangerous maniac who commit ritual murders of prostitutes.
This movie, I'm simultaneously reminded of two other films:" Hero and Monster" (featuring Chuck Norris) and my favorite movie is "Maniac COP". Well, indeed, because of the parallel with the "Maniac COP" I bought it. After all, the way a serial killer from the "Night of the hunter" convinced William Lustig had risen from the grave the police should play Robert Zdar! While watching I was waiting for, when will Mel, Cordal (maniac COP) and begin a bloody massacre, so it seemed to me similar in spirit to these movies…
The film itself is neither a cult nor a masterpiece can not be called, but I gave him a tenner for Robert Zdarov and something else, what words not to say. If this film had been sitting in a warehouse since the 80-ies, and so I shook the dust off it and put it into the player! The whole film is thoroughly imbued with the spirit of the eighties.
The rest of the cast is quite colorful, but a little off to me. The movie seemed a little boring. It the genre action/horror still little action. In General, fans of the 80s and Maniacs "Police" is dedicated.
Screenshots
Download