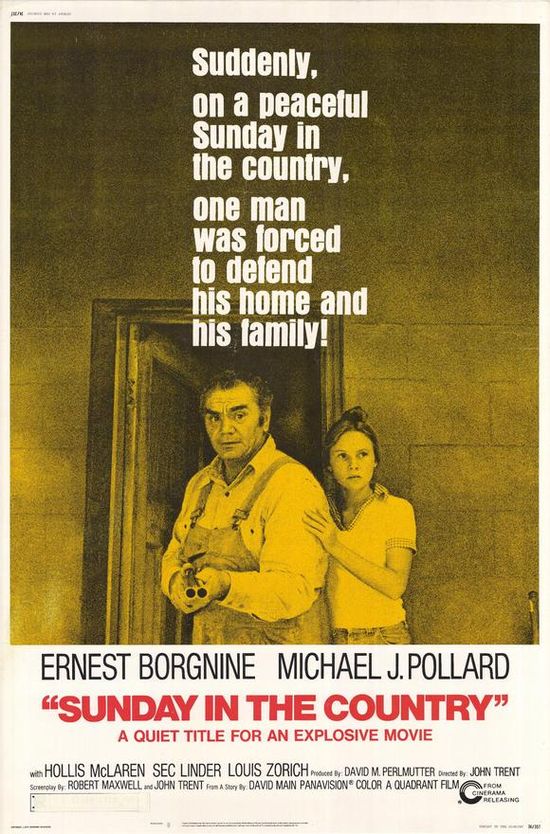 Year: 1974
Duration: 01:28:08
Directed by:  John Trent
Actors: Ernest Borgnine, Michael J. Pollard, Hollis McLaren, Louis Zorich, Cec Linder
Language: English
Country: USA
Also known as: Blood for Blood, Vengeance Is Mine, Killing Machine
Description: Three vicious thugs are on the run in rural America after robbing a local bank. They seek refuge at the home of a reclusive farmer, but he is prepared for their arrival and holds them at gunpoint. Unable to let them simply wait for the law, he decides to take them into into his cellar and torture them a little before the police arrive.
Review: This is a seriously lost and forgotten classic sick gem!! Three bank robbers, one a complete psycho played by Michael J. Pollard are on the run driving through Bumfuck, USA.
Along the way Pollard blows a hole the size of a crater through some dude fixing his car on the side of the road and then attempts to rape his girlfriend before giving her a bullet too, all for no reason at all.
They decide to ditch their car and leg it to the farmhouse of Adam Smith, better known as "Gramps" by his grand daughter Lucy. Gramps is a religious type is played by Ernest Borgnine and we know from the start he is a sicko! Like when he takes lucy to church in his beat up old Ute (this film is set on one Sunday by the way) he looks at her and cries out "Haven't you got a dress little longer for church goin'!?' Gramps also comes from the old school and his old fashioned values reflect that:You have to work hard and you have to protect your family.And you have to teach assholes a lesson, like god would!
Its no surprise then that when he gets wind that these evil doers are in his neck of the woods he takes the law into his own hands…… Much to the increasing horror of Lucy and the simple but strong farm hand who spends most of his time looking after the cows in the shed. What follows is an intense ride of humiliation and violent murder, suspense and revenge, with the tables turning for all involved.
This film is fucking fantastic, gripping from the get go and never letting up, a vicious and rough film with great acting by everyone and top notch SFX (By Bud Carlos!!) as well as a fantastic country soundtrack that keeps the mood down all the way through with the theme song of the title being particularly haunting.
Screenshots:
Download: