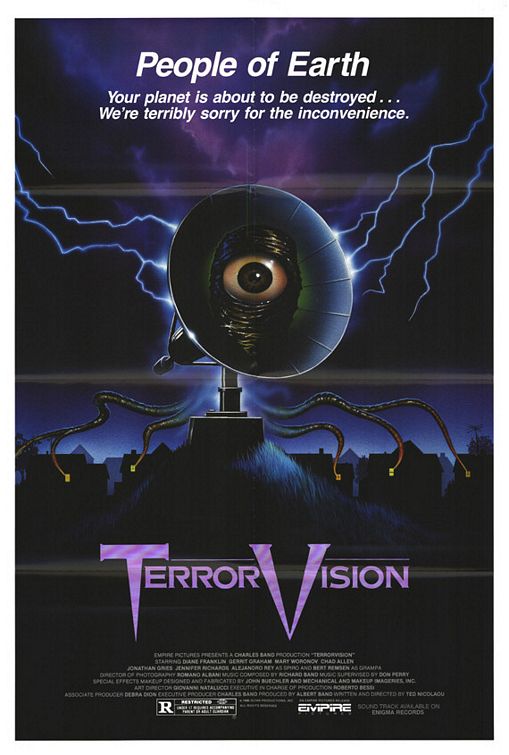 Year: 1986
Duration: 01:24:06
Directed by: Ted Nicolaou
Actors:  Diane Franklin, Mary Woronov, Gerrit Graham
Language: English
Country: USA
Also known as: TerorVizija, A Visão do Terror, Terrorvízió, Terror vision – visioni del terrore, Potwor z kosmosu
Description of TerrorVision movie: Alien civilization invents the perfect way to get rid of waste – waste through certain manipulations transformed into energy and ejected directly into space. Meanwhile, on Earth family Puttermanov sets itself a satellite dish, which soon clot and gets that same energy. As a result, the new tenant in the house Puttermanov becomes aggressive alien trash monster. Filmed by director of Bad Channels movie

Review: These words clearly describe this picture, " TerrorVision" is a product that does not try to hide under a nice shell , it's just wild senseless and merciless trash that shot too bad to annoy … This is a movie for those who sometimes likes to see a mocking wretched movie, for one simple reason – it's fun. One need only look at the smiling monster , and involuntarily smile appears on his face . Now in this era of 3D will not see .
Plot in the film too much no, incredible actors amused grimace when they cry . Basically the movie reminds children eerie stories around the campfire in the camp under the dim moonlight …
In fact, the attitude of this is simple – if you do not take it seriously, and at times like F-movie, the picture is well worth your attention. However, if you expect something special from the picture , then you will certainly disappointing . The main thing to understand that it's not even a horror movie , it's sort of a crazy parody of not only horror , but in principle on the movie . And here is a matter of taste whether you like to look at a predictable fantastic thrash made ​​crooked , askew or not?
I think most would say that of course not, the other , the film may seem at least amusing. It's not like smart comedy parodies , but this is not such entity as something like " Stan Helsing " , the picture is somewhere in between and clearly described by the expression «stupid but fun» …
Screenshots:
Download: