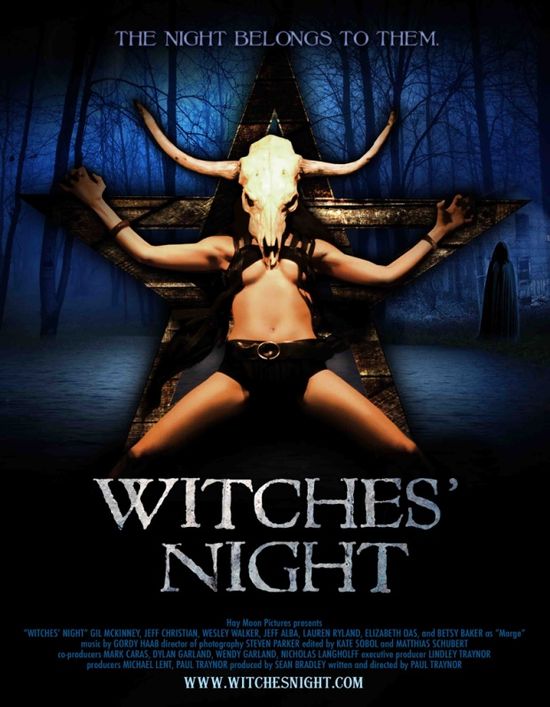 Year: Witches' Night

Duration: 80
Directed by: Paul Traynor

Actors: Gil McKinney, Jeff Christian & Wesley Walker

Language: English

Country: US

Also known as: Twilight Witches

Description: To help the friend to get over a breakup with a girl, four friends on Halloween go on nature. Boating, bonfires, men talks under the beer — what could be better? Especially on the adjacent meadow is located such beauty! And they clearly do not mind to brighten up the night for lonely guys. But very soon the perfect weekend would turn into a nightmare from which there is no escape…
I think that the "Night witches" is on the list of "stupid" American horror movies. On the one hand the idea of the film is interesting, but the movie failed, and the actors are bad.
Four friends go on nature in a far place away from all people. A campfire at night they are joined by four young beauties who try to seduce guys. Some succumb to the insidious temptation, not knowing what awaits them…
In the film, a lot of what you complain about, but it is always easier to criticize than to find worthy moments. The film shows an interesting, scenic spots, where the unfolding terrible, mystical and bloody events.
Watching the film, you feel deja vu, like you've already seen the movie and know what happens next. All this because the movie is filmed trite and boring. Of all the actors I liked the main character and the main witch, and the rest are very mediocre and elusive appearance.
This movie still stands out for its interesting idea: at night, the girls are young and beautiful, and the day they turn into horrible old women who carry the horror and darkness…
Screenshots
Download