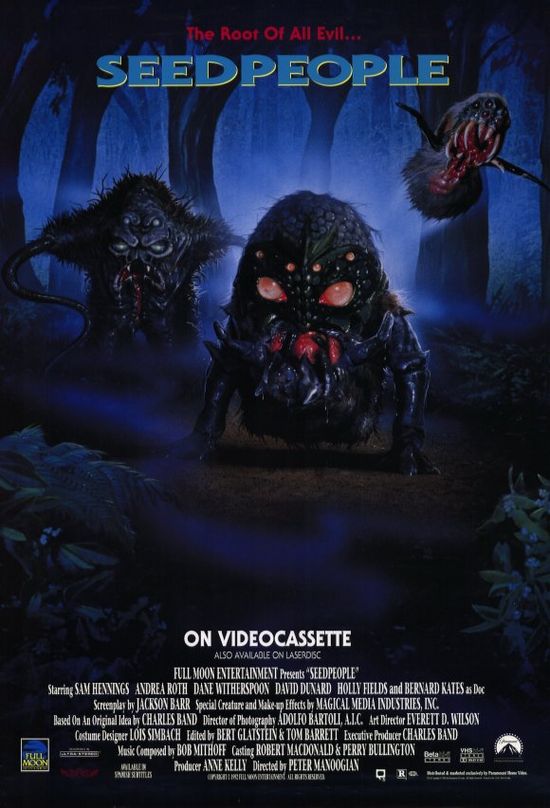 Year: 1992
Duration: 01:21:17
Directed by: Peter Manoogian
Actors: Sam Hennings, Andrea Roth, Dane Witherspoon
Language: English
Country: USA
Also known as: Dark Forest – Aliens des Grauens, Sway, Semilla Negra, Glutors, Alla radice del male, Devil Seed
Description of Seedpeople: Haselenie small American town becomes the object of aggression aliens. People who fall into their hands, turn into monsters, blindly fulfilling the home team. The film's protagonist, who came to this city, begins the fight with aliens.
Review: Almost right in 1992 what he saw on the tiny district cable channel this movie remembered for a long time … 17 years later to be scanned again.
Does not particularly remarkable horror stories about bad aliens. However , some episodes ( once crashed into memory) – that is, when the flowers , stems from alien plants attacking people – this is actually the highlight of the movie. Done really scary .
And the rest – no , in general , the game is a little-known actors ( there is an exception – Holly Fields in the role of a teenage girl with the camera looks extremely … um … juicy , and after her at the time of the shooting 16 years) , goofy and silly plot ending.
Oh, what they did to us the first to break into the blue screen zabugornye even the most mediocre movies …
Screenshots:
Download: