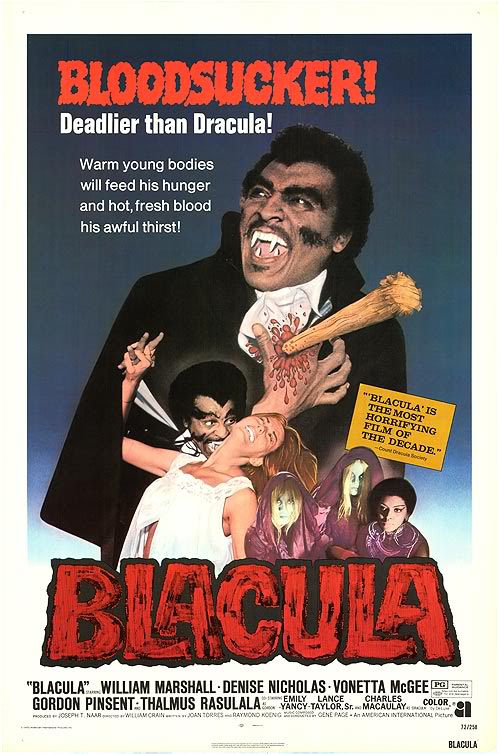 Year: 1972
Duration: 01:33:07
Directed by: William Crain
Actors: William Marshall, Vonetta McGee, Denise Nicholas, Thalmus Rasulala and Gordon Pinsent
Language: English
Country: USA
Also known as: Blacula – den sorte vampyr, Blacula, O Vampiro Negro, Blacula, le vampire noir, Blakula, Blácula, o Vampiro Negro, Drácula negro, Le vampire noir
Description:
" Blakula " – one of the best movies blaxploitation- 70s . I think this tape should appeal to all fans of the old classic movie . This wide of a "cult" . Boring for all theme with Count Dracula , which varied in the movie not once, not twice , here looks very cool and you can even say with interest . The film was shot well , with the dynamics there is no problem . The camera work and installation at " Strong coffee break " – bleksploteyshna with Pam Grier in which the word has appeared in the second part of " Blakuly ."
The plot is pretty standard , in the spirit of any " vampire " movie – the prince and his bride come from Africa in Dracula's Castle on an important case. There is a conflict between them . As a result, Prince Dracula turns into a vampire ( Blakula ) and his bride locks in prison with the coffin Blakuly . Further, all under the scheme – a few centuries the vampire 's coffin was opened and Blakula being released … The point here , of course , is not what is told , and how it's done. Charismatic protagonist , corporate transformation into a bat , zingy funk soul behind the scenes , black actors, smeared with white paint ( they play vampires) … I think this is enough to ensure picture worthy place in your collection. One of the best specimens bleksploteyshna before us.
Lovers of mysticism and brutal horror movies nothing to do here . " Blakula " something looks like a comedy , though for the most part it's just cool styling . This is the classic "Dracula" in the studio with the guys reading «American International». Studio , which starred the best in the world … eksploteyshn Once Samuel R. Korman brought Arkoffu unfinished film about " Monster with a million eyes ." Corman did not have enough money to create a " monster " and he abandoned the project. Arkoff kept his head and added to the film footage in their own studio. Role played monster Maker … This is brilliant , in my opinion . " Blakulu " I think stout film and advise to look all moviegoers .
Screenshots:
Download: