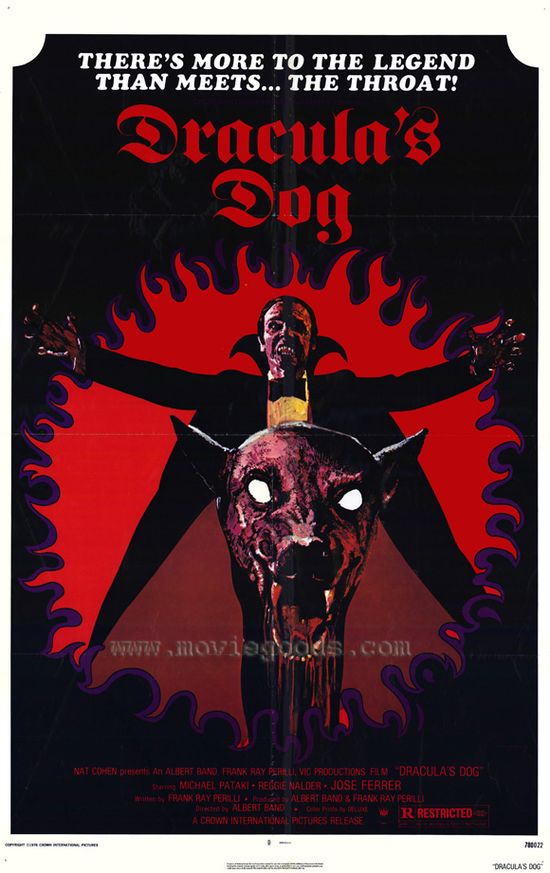 Year: 1978
Duration: 01:27:21
Directed by: Albert Band
Actors: Michael Pataki, Jan Shutan, Libby Chase, John Levin, Reggie Nalder and Cleo Harrington
Language: English
Country: USA | Italy
Also known as: Zoltan, Hound of Dracula, Dracula contro Zombi, El perro de Satán, Ta skylia tou Drakoula, To lykoskylo tou Drakoula, Zoltan – O Cão Vampiro de Drácula
Description: If you followed all that then now is the time to explain. Zoltan, Dracula's dog, has risen from the dead to seek revenge by the side of his master. Unfortunately Dracula is dead…so his willing servant transports Zoltan to be with the last surviving member of the Dracula bloodline. Where does he live? In sunny California of course; where else would the great, great, great, great grandson of Dracula live? Alright, I'm tired of explaining so just watch the cheesy trailer below, and dig those bad 70s tunes as the Dracula family go camping in their Winnebago.
Review: Sometimes the road work could lead to the most unexpected , eerie and extraordinary impact. This made ​​the workers of the Russian road crew . accidentally discovered a mysterious underground crypt. Perverse curiosity brought back to life and his murderous evil incarnation.
The film " Dracula's Dog " filmed in 1978 by the famous American treshmeykerom Albert Band . No relation to the works of Bram Stoker's vampire picture has , however, and the original screenplay by Frank Ray Perilli film can still boast , because the main character and the main picture of the sower of evil in it is a dog – vampire Zoltan , a priori, that makes the picture somewhat unusual . Overall filmed operator Bruce Logan is quite interesting and bright, horror expertly blown scenes of violence and no obsession . We can say that the film is tasteful and it slightly makes a variety of lean vampire theme.
Starring in the film are very convincing. Actor Michael Pataki perfectly cope with the role of Michael Drake , managing brilliantly convey the metamorphosis of his character . Very colorful characters played in the film as Gian Jester ( Marla Drake ) , Reggie Nalder ( Veidt Smith ) and Tom Gerrard (oil).
Soundtrack, written by composer Andrew Belling , perfectly suited to the picture , enveloping it and creating suspense .
I recommend this little-known horror film, scanned me , by the way , even in early childhood, to all fans of classic horror and trash the original , and I think the picture will not disappoint you and will be remembered as much as me .
Screenshots:
Download: