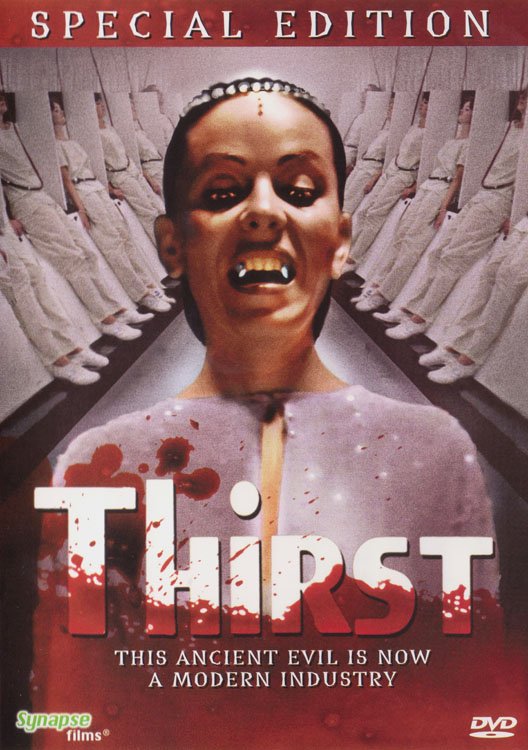 Year: 1979
Duration: 01:31:26
Directed by: Rod Hardy
Actors: Chantal Contouri, Shirley Cameron, Max Phipps, Henry Silva, Rod Mullinar and David Hemmings
Language: English
Country: Australia
Also known as: Blutdurst, Sed, Sete di sangue, Soif de sang
Description: Classic Aussie vampire flick filmed mostly in Melbourne. Though we've probably only made less than half a handful of them. Stylewise it's akin to the 70s Italian giallos.
The only feature film from one time early 70s Aussie TV cop show director Rod Hardy(who over the last 15 years has been directing US TV shows like Battlestar, JAG, X-Files) is a pretty decent attempt at creating a different take on the vampire legend. Though it does dip into Hammer-esque moments in the last third, it was a surprisngly fresh look at the genre.
I saw it at the cinema in 1979 & when it arrived on VHS in the late 80s it was in a horrible colour drained P&S, so it was a revelation when it was finally released (in apparently a long lost original anamorphic 2.35:1 version) on DVD. A few dust & scratches, but not enough to really mention. Considering we didn't make many of these type of films
The cinematography was by Newsfront/Long Weekend d.o.p. Vincent Monton.
TV star Chantal (The Sullivans) Contouri starred with ex-pom Rod Mullinar (who was incidentally in the Italian Giallo set in Sydney flick The Pyjama Girl Case & who's wife started Australia's largest film & tv casting agency), while Max Phipps, who must've been in every 2nd Aussie flick & TV Show in the 70s & 80s (Mad Max 2, Stir & The Cars That Ate Paris, et…) also features.
Some imports include Brit David Hemmings & rent-a-yank Henry Silva, who must've took time out from making b-movies from all across the globe to basically only appear throughout the film in a very restrained manner. Our Brian (Mad Max) May (not the Queen guitarist) provided the soundtrack.
Review: Chantel Contouri stars as Kate Davis, who is tracked down and kidnapped by a sect who call themselves 'The Brotherhood'. They believe her to be a long lost vampire Baroness and proceed to psychologically torture and brainwash her to understand her 'true calling' as their leader despite her protestations.
The film Thirst takes an intelligent and refreshing approach to the contemporary vampire genre. It rejects the traditional concept of vampirism being a physical transformation of the flesh that can be conquered by religion and turns it into a state of mind. The elitist 'vampires' in Thirst have no aversion to daylight, garlic or crosses. They are not even mentioned. Here is a world of rich aristocrats who keep drugged men and women (referred to as 'cattle') in farms for a continually fresh supply of blood that is packaged into hygienically safe cartons for distribution to the vampire masses. Not bad for an Aussie movie that on the surface seems like cheap exploitation is it?
Screenshots:
Download: