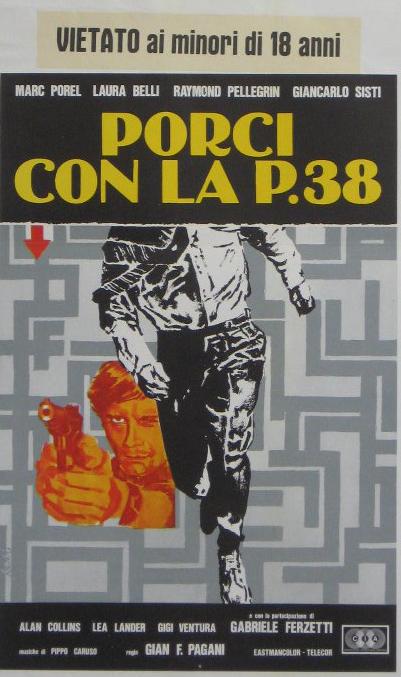 Year: 1978
Duration: 01:32:52
Directed by: Gianfranco Pagani
Actors: Marc Porel, Laura Belli, Raymond Pellegrin
Language: Italian
Country: ITALY
Also known as: Porci con la P.38, Die eiskalten Killer
Description: One of the rarest and difficult poliziotteschis to be found, rare VHS sought by the collectors of the whole world, violent and height of action
Review: A mafia don retires and splits his territory dividing it between the three heads. Following the old guy and one of the heads are all of a sudden murdered, the remaining two begin to suspect each other of being behind it in order to take over the complete organization. Complications arise when inspector Morris (Marc Porel) gets included and his family is threatened.
Uncompromising title and certainly although low budget and not one of the best movies ever made a very decent and equally uncompromising work. Drug working and drug, prostitution taking and sleaze, this has the typical ingredients but personally, I had trouble for the very first half hour working away who had been who and on whose side they had been on. Dramatic tension is missing until the final 3rd and before that we get lots of fist fights, many unconvincing and overlong.
The scenes of drug taking, especially by desperate naked women, is however and as the killings build up a generally grubby feel is clearly established. The final area is worth the wait and although we have actually seen glimpses of great cinematography along the way, the final denouement is very well done. So, difficult start, bumpy center and decent end with much nudity and far more drug injection than is usual.
Screenshots:
Download: