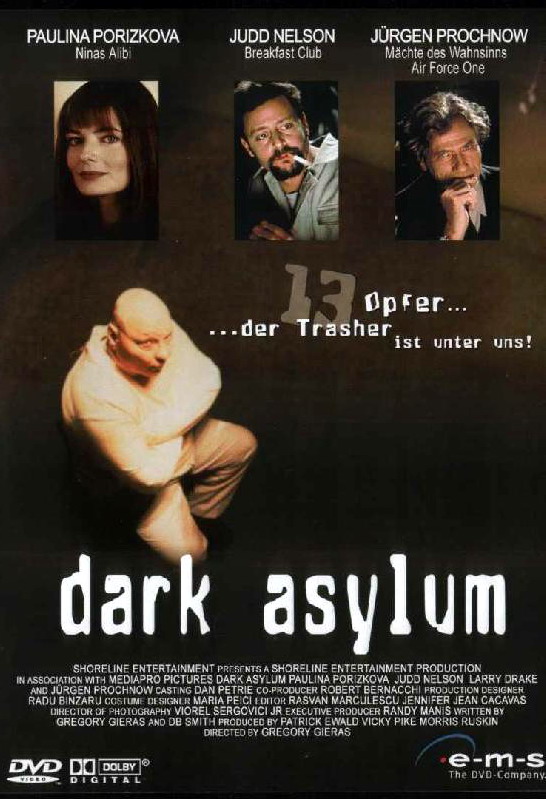 Year: 2001
Duration: 
Directed by: Gregory Gieras
Actors:  Paulina Porizkova, Judd Nelson, Larry Drake
Language: English
Country: USA
Also known as: Dark asylum – Il trucidatore, Return to Death Row, Maniac Trasher, Trapped.
Description: An escaped psycho-killer Thrasher strikes fear on the police and residents. Nobody and nothing can stop it. Famous psychiatrist Maggie the Bel aims to understand the motives of the killer.
Meanwhile, Thrasher, acting one step ahead of the police, leaving behind only corpses and destruction, becoming more violent. Police operations and weapons are already powerless, and Maggie is left alone with the brutal psychopath.

Thriller, which can be viewed, here's what I can say about this film. On the one hand, like a typical horror film, which many, but on the other, it has something special that makes it stand out from the many.
It is about a psycho killer who lives in a sewer manhole and brutally kills his victims. Once manages to grab him and bring in a psychiatric hospital, and there is a large part of the film. The killer has incredible strength and crushes everything in its path. The main character meets one of the patients of the hospital, and together they try to escape from this monster.
Screenshots
Download