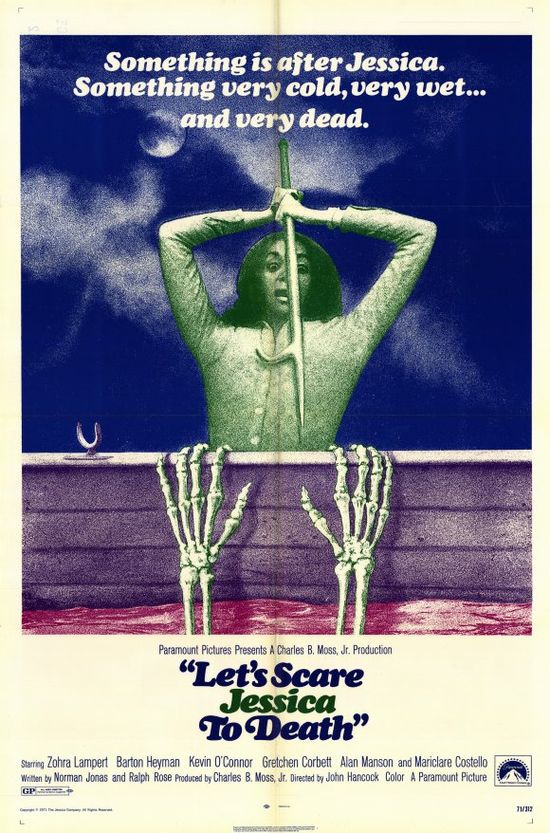 Year: 1971
Duration: 01:28:51
Directed by: John D. Hancock
Actors: Zohra Lampert, Barton Heyman, Kevin O'Connor, Gretchen Corbett, Alan Manson, Mariclare Costello
Language: English
Country: USA
Also known as: As Escarpas do Medo, Grauen um Jessica, I Jessica tha pethanei apo tromo, Ijesszük halálra Jessicát!, Låt oss skrämma Jessica till döds, Låt oss skrämma livet av Jessica, Säikäyttäkäämme Jessica hengiltä, The Secret Beneath the Lake, What Killed Sam Dorker?
Description: What stands out in the first place – the integrity and rectitude simply terrifying adorable without extraordinary mystery – Jessica really mentally healthy, this one is not going to argue . Title fully justifies its content , and , I confess, it pleases to the fullest. Here it is the viewer simply stares on, hoping at least for some explanation , but then everything gets even more complicated , and we like Jessica herself , just trying to comprehend what is happening : the corpses ? Ghosts ? Vampires ? What else is present to us this tape ?
Atmosphere of terror created just awesome : a long time I have not experienced this feeling of anxiety in anticipation of something frightening . This despite the fact that the film focuses explicitly image , namely, self-hypnosis audience – say , hold on, now would be scary. And this move triggered a hundred percent ! However, we should mention some moments , escapes from the viewer at first, but did not meaningful until the very end . For example, what role was played by the same girl in a white dress , met Jessica ?
However , we must pay tribute to the creators : despite the slightly odd behavior of the characters tape (especially Jessica always enigmatic smile , even in moments of fear that it might explain a shaky psyche ) , the film was an excellent horror , capable even after so many years to make the viewer not just see and forget , but try to understand the essence and answer questions posed by Jessica in the final. In general , it is amazing .
Screenshots:
Download: