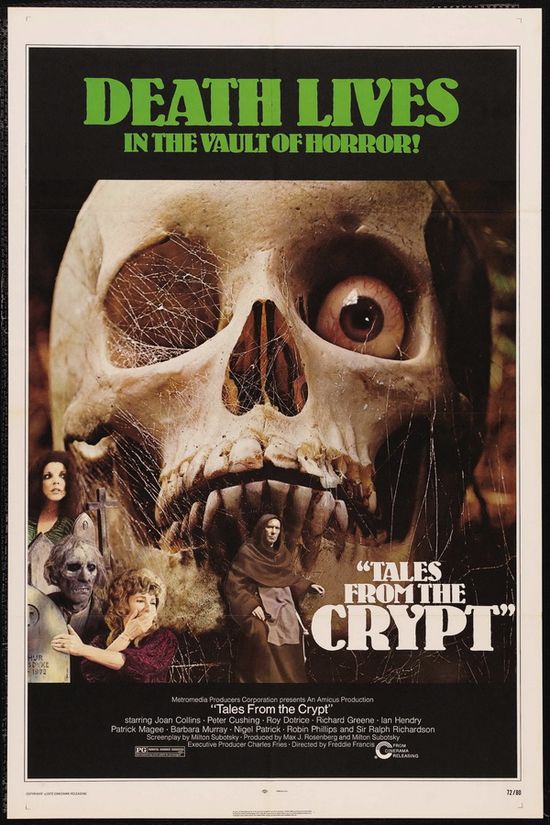 Year: 1972
Duration: 01:32:18
Directed by:
Freddie Francis
Actors: Joan Collins, Peter Cushing, Roy Dotrice, Richard Greene, Ian Hendry and Patrick Magee
Language: English
Country: UK | USA
Also known as: …And All Through the House, Blind Alleys, Condenados de ultratumba, Contes d'outre-tombe, Histoires d'outre-tombe, IReflection of Death
Description:
Are the real and original " Tales from the Crypt " 1972 issue , shot Freddie Francis , director of the worst films of the plants – killers in the history of cinema ( "The Day of the Triffids "), virtually everything is repeated by his film " Dr. Terror's House of Horrors " filmed them in 1965. a little less than ten years , the movie from the " Terror " is not gone. All too many people , the same final denouement of the plot, is very similar in nature narrator , but what is really there , even the writer is the same. what's New What people and new stories , and pull the card , no one will. in this regard, " Dr. Terror's House of Horrors " was more original script . But this film is not without advantages , and generally looks smoother with the above .
The film has an amazing melody in the opening credits , she is also in the final . The most powerful and terrible «Toccata and fugue» Bach in Des minor. Awesome design start and ending credits. But all the music fits the movie pretty visuals , causing a sense of the whole , to leave literacy is part of the picture .
Tour of the vault for five users become endless labyrinth. Girl loses brooch , a man tries to help her, three more behind can not go ahead and wait. As a result, all lost in the tomb, and can not find the others and guide, but they do not have to be bored , finding strange inhabitants of these places , all they listen to stories told by the keeper of the crypt – creepy monk. Each of the stories tells about one of them, in order to allegedly " warn" about the impending danger.
Screenshots:
Download: