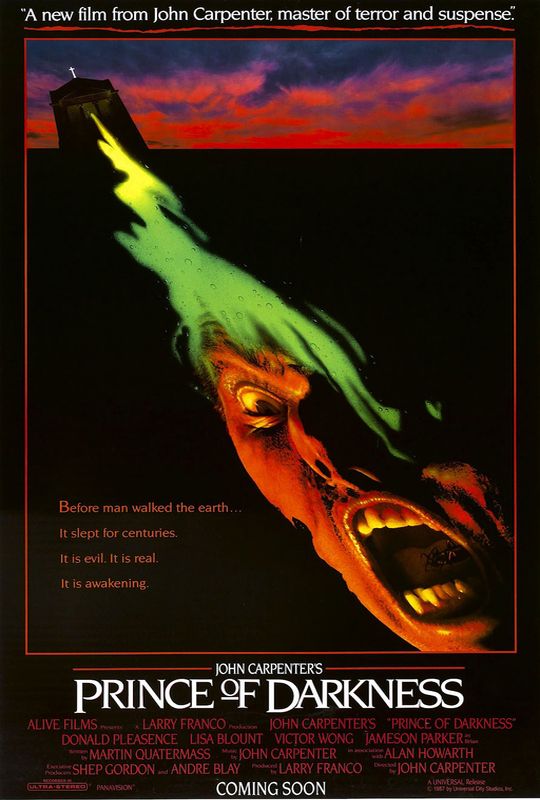 Year: 1987
Duration: 01:37:40
Directed by: John Carpenter
Actors:  Donald Pleasence, Lisa Blount, Jameson Parker
Language: English
Country: USA
Also known as:  El príncipe de las tinieblas, Princ, A sötétség fejedelme, Die Fürsten der Dunkelheit, I en kælder sort som kul, Il signore del male, John Carpenter's Die Fürsten der Dunkelheit, John Carpenter's Prince of Darkness, Karanliklar prensi, Ksiaze ciemnosci, Mörkrets furste, O Príncipe das Trevas, O prigipas tou Skotous, Pimeyden prinssi, Pimeyden valtias, Príncipe das Sombras, Prince des ténèbres
Description: A group of scientists and researchers during the study of an abandoned church found an unusual vessel. With the help of X-rays they can determined that the vessel is around 7 million years old, and most interestingly, it can only be opened from the inside. It has kind of strange substance: liquid diamond, created by a mysterious force.
In ancient manuscripts says that in this diamond rests Satan himself or his spirit. During experiments the diabolical force, disengaging from the container and scattered in space, begins to take root in the research, turning them into slaves of Prince of Darkness.
Review: I want to say that movies Carpenter, in my opinion, can not scare just because it works too imbued with dark humor and endless banter ghouls and other supernatural personalities. That if we do not count it perfectly filmed "something" that made my blood run cold. Yet the atmosphere of this very "something" does not allow me a second off the screen later, a cold winter evening. As well as the legendary "Halloween", thus opening a whole picture of this movie genre. "Prince of Darkness" mixed picture. It is foolish to imagine that the devil comes in the guise of the "red and horned" and immediately occupied the whole world. But still, what, you may say, but very idea is not bad, but considering there's the fact that the court was in 1987, and the picture will inevitably be interested in amateur horror film fans at the time. Besides all this dish I Tweaked grown fond motive in John Carpenter's music, as these tunes inevitably runs the viewer thinking that dismal outcome is inevitable. To the atmosphere, ominous tone again and again new emerging events that can not be long in coming, while plunging into the abyss of extremities film fans of all things. That's what I remember, and this creation, with a bold, in my opinion, the title "Prince of Darkness."
Scientists – physicists found in the depths of an abandoned Los Angeles – Andzhelevskoy church a vessel, which has within itself what is paranormal liquid substance. In numerous studies, they concluded that the liquid may be of the order of about 7 million years. The local priest, minister of the church heard about this mysterious slime, as ancient manuscripts say that Satan will break into the world is through this vessel filled with this substance. And that she will win it through the soul of mere mortals, thereby capturing the unconditional power over all things.
John Carpenter, a long time will not deviate from this outline sinister omens. Something similar in the future, we will see in the film '95, entitled "In the Mouth of Madness." Thus, the "Something", "Prince of Darkness" and "In the Mouth of Madness" form according to Carpenter's three different outcomes of doomsday. When humanity will exhaust its right to exist in this world.
Carpenter, like some directors, liked to invite his pictures of actors that had the opportunity to engage in his other productions. In this film, these actors were Victor Wong and Dennis Dun, not a bad showing itself in "Big Trouble in Little China", and Donald Pleasence, who had already acted in Karpenterovskom "Halloween" and "Escape from New – York."
Screenshots:
Download: