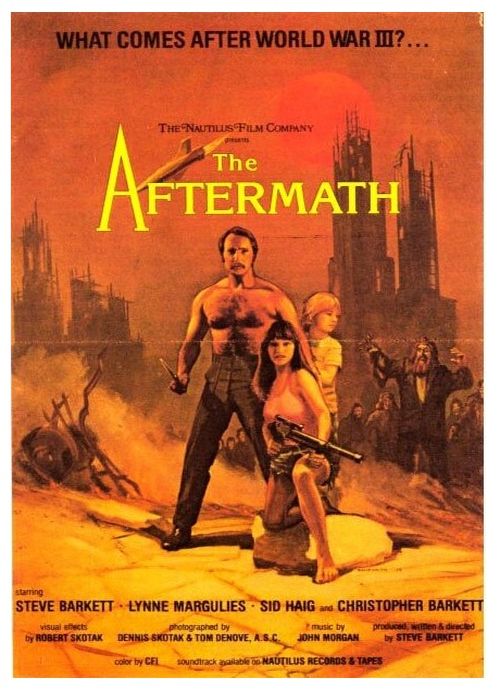 Year: 1982
Duration: 1:53:06
Directed by: Steve Barkett
Actors: Steve Barkett, Lynne Margulies, Sid Haig 
Language: English
Country: USA
Also known as: Aftermath, El día después del juicio final, Pelottomat, Zombie Aftermath, De gjenlevende, Nuclear Aftermath, Tajemnicze ladowanie.
Description:
If you happen to love post-apocalyptic movies from the 1980s, well then the chances are you already know about the existence of Steve Barkett's THE AFTERMATH.
Story-wise, this cult classic finds one-man filmmaker Steve Barkett as an astronaut returning to Earth, and who promptly finds things have gone horribly wrong on the surface of the planet in his absence. Barkett's former girlfriend (who would later be Andy Kaufman's girlfriend), Lynne Margulies (and who is also Johnny Legend's sister!), shows up to show off some skin, Barkett's son Christopher (who is in all two of Steve's movies) is the orphaned boy who befriends museum hideaway Forrest J. Ackerman, and the great Sid Haig is the leader of a scavenger gang who threatens what's left of humanity in post-apocalyptic Los Angeles. FX man Jim Danforth works on both sides of the camera, Ted V. Mikels co-produced, and the distinctive voice of That Guy Dick Miller's can be heard in this recommended minor mini movie epic.
Screenshots
Download