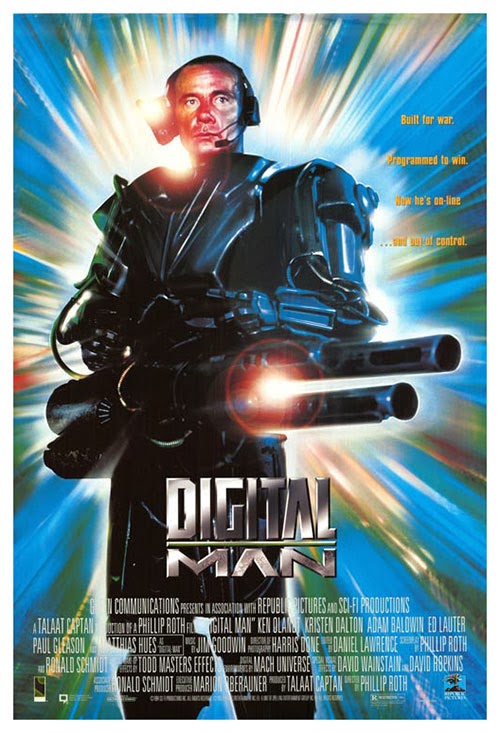 Year: 1995
Duration: 01:31:17
Directed by: Phillip J. Roth
Actors: Ken Olandt, Kristen Dalton, Adam Baldwin
Language: English
Country: USA
Also known as: Digital Man, O Homem Digital
Description: 
As known in the 80-90 years of cinema began to actively devote their attention to the topic of artificial intelligence , namely robots , cyborgs , androids , etc. This interest came from technocratic civilization development . People tried to guess and to warn itself based on films from errors future. As a result , a host of wonderful pictures on this theme , which became a cult ( Terminator , Robocop , Blade Runner , Cyborg and many others) . Operational movie also did not lag behind and gave rise to many interesting projects. "Digital Man" just a purebred representative B-movie , and though quite good quality .
In contrast to the previously mentioned "Terminator" where the machines are presented as a threat to humanity , in the " Digital Man" D-1 robot is a toy in the hands of the authorities . Besides him there in the film and cyborgs . The truth of the soldiers who are sent to capture digicam is half piece of iron is not known. This adds even more intrigue to the story .
The main plus of this picture combat operations with the help of huge guns in the form of tubes welded together , and the rest of the piece of iron like tinsel . However, all tastefully done and you believe the creators of tape that is the real weapon of the future. In the treasury pros can still add armor soldiers and digital robot , as well as scraps of a wounded cyborgs . Is average for that time computer graphics in the form of spaceships landing does not spoil the movie experience .
Places not seen normal perverse humor : one woman with a gun is worth . Pro flavor – Christmas tree at the helm of a starship not say anything at all (oops seems to have let it slip ) . For the moment where the robot saw the child ceases to fight a special thank you . If such a story would be filmed in 2011 , in pursuit of realism and brutal reality of the baby should be shot.
Of the cast can be distinguished Don Swayze (brother of Patrick ) , Chase and Sherman Augustus Lasterson . First vzbalomoshenuyu played a pair of lovers . The last of the detachment of soldiers was most similar to the true commando . Not a bit like Kirsten Dalton character because she is constantly reminded of his actions are not natural weapons. Unlike his teammates , which show the severity silyatsya impromptu ultramodern weapons , she always worn with a huge machine gun holding it with one hand and montylyaya them as an empty shopping bag . And of course, not to mention the star as second-class militants Matthias Hughes. The role of D-1 robot he really came . Hughes is not verbose, at least emotions , movements smooth and clear in the general real Terminator .
"Digital Man" 100% product of its time : it was in the 90th could invent superivatsionnuyu gun built into TV, which looks commando slasher .
Screenshots:
Download: