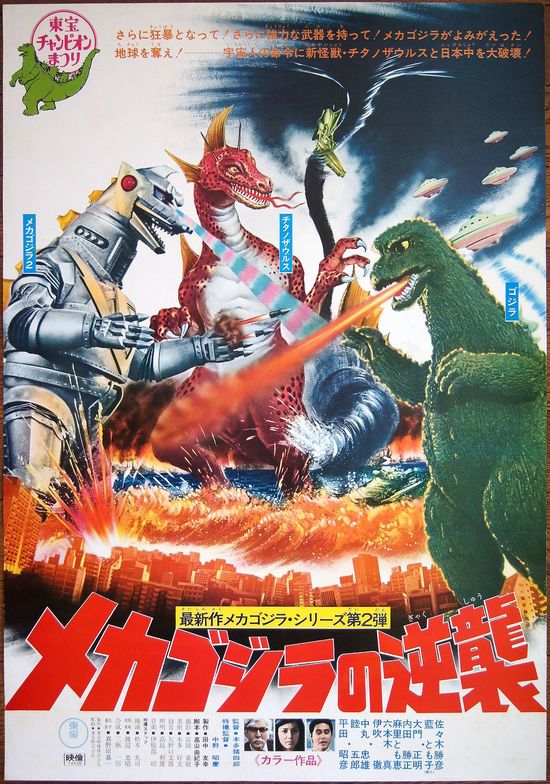 Year: 1975
Duration: 1:28:50
Directed by: Ishirô Honda
Actors: Katsuhiko Sasaki, Tomoko Ai, Akihiko Hirata
Language: Japanese
Country: Japan
Also known as: Mechagodzilla vs. Godzilla, Godzilla contra Mechagodzilla, After Holocaust, Mechagodzilla contre attaque, Godzilla und der Kampf der Titanen.
Description: Ishiro Honda brings closure to the Matsuri Era of the Godzilla franchise with the simultaneously gloomy and absurd fan favorite, Terror of Mechagodzilla.
Terror of Mechagodzilla takes up shortly after Godzilla vs Mechagodzilla leaves off. This theatrical version comes complete with a 10 minute narrative on the origins and history of Godzilla from his appearance until the end of the last movie before and during the credits.
While searching for the remains of Mechagodzilla a submarine is destroyed by the giant dinosaur Titanosaurus. We are led to the disgraced Dr. Mafune who after being laughed at by his colleagues decides to join forces with the Black Hole Aliens to destroy mankind. The Aliens have obtained and restored Mechagodzilla to be even more powerful than before. They are confident that the joined forces of Titanosaurus and Mechagodzilla will be powerful enough to destroy Godzilla and then all life on Earth. Download to see the epic struggle between Godzilla and these two deadly monsters as well as mankind's battle against the Aliens aided by Mafune!
Screenshots
Download