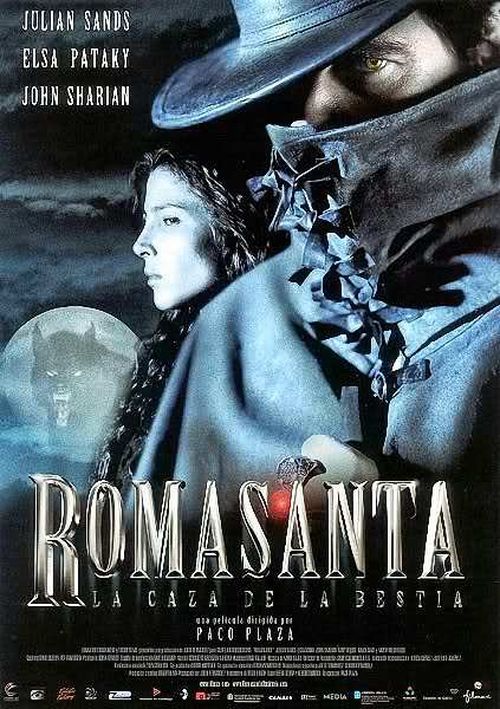 Year: 2004

Duration: 01:30:47 (English Version) / 01:34:25 (Spanish Version)

Directed by: Paco Plaza
Actors:  Julian Sands, Elsa Pataky, John Sharian
Language: English / Spanish (English & Spanish Subtitles)

Country: Spain / UK

Also known as: Romasanta; Romasanta, la caza de la bestia; Farkasvadászat; I delitti della luna piena; L'enfer des loups; Romasanta – A Caça ao Lobisomem; Romasanta – A Casa da Besta; Romasanta – Auf den Spuren der Bestie; Romasanta – Im Schatten des Werwolfs; Romasanta: To kynigi tou lykanthropou; The Werewolf Manhunt; Werewolf Hunter; Werewolf Hunter: The Legend of Romasanta
Description: 1850. Northern Spain. In the woods bred wolves. No one dares to go to the forest. People in the villages are scared. Although they try to protect themselves with guns and traps, the number of victims is growing … and there is something strange. On some mangled bodies are strange characters, strange incisions made ​​so precisely that it can not be the work of wolves.
In memory of people pops legend about werewolves, and this only adds to the fear. Only one man dares to enter the forest. Who he is and what a terrible secret owns? This is a true story about a man who lived in the 80-ies of the XIX century. Under the guise of a good-natured hidden monstrous essence, it was a murderer and a cannibal, who declared that at night, the moon is full, it can turn into a wolf. Who he was: a sadistic serial killer or unhappy madman?
Review: Despite its title, the movie "Romasanta: the werewolf hunt" can not with certainty be ranked as sub-genre of horror movies about werewolves. Although, I should note that there is a very good stage of transformation (in this case a wolf in person), and without the use of computer graphics, and good old methods, which can not been seen since the 80's. I like old-school fans of the effects were particularly pleased to see this. The movie itself is far from the spirit of "Howling" and "American Werewolf in London," and the closest thing to the "Brotherhood of the Wolf."
This costume (events occurring in the 50-ies of the XIX century in Spain) mystical detective thriller (you can still write a drama, but a stretch, but all sorts of things because of this thriller is not exactly) Well, in a nutshell it is easier to say "gothic horror". In fact, there is no werewolf, but there is an ordinary man, brutally, like a beast of prey, straightens his victims through his deeds may be confused with an attack of wolves, which are just at the time held in terror entire villages. So everything is real, especially as shot as in the case with the "Brotherhood of the Wolf", based on real events, but slightly seasoned with mysticism.
However, it now seems that there is little mystical and everything is clear, and in those days Romasanty allegations that his atrocities to blame the curse that turned him into a wolf and forced to kill people, so impressed Queen Isabella II that it fully amnestied it. While this is not really helped the first serial killer in Spain and soon he was killed (who knows). Such are the deals.
Screenshots:
Download:
Romasanta: The Werewolf Hunt 2004 (English Version)
Romasanta: The Werewolf Hunt 2004 (Spanish Version – English/ Spanish Subtitles)