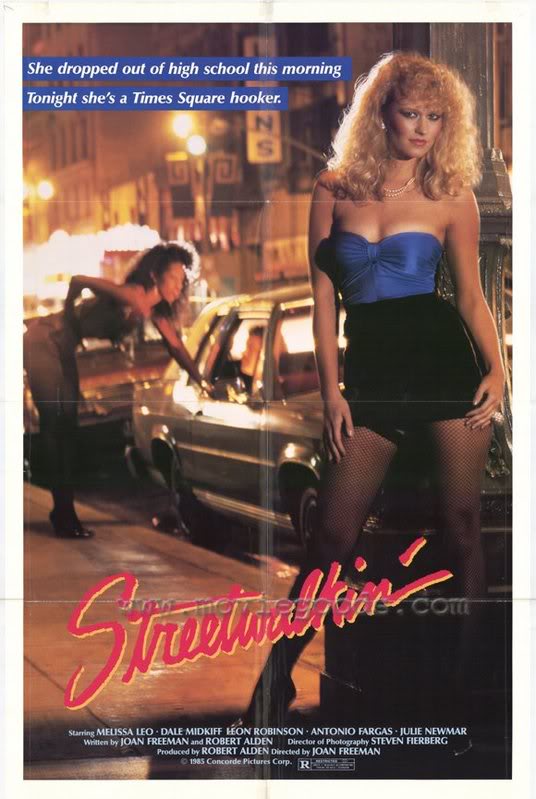 Year: 1985
Duration: 02:00:35
Directed by: Joan Freeman
Actors: Melissa Leo, Dale Midkiff, Leon, Antonio Fargas
Language: English
Country: USA
Also known as: City Streets, Cookie, Prostitución, Streetwalkin' – Auf den Straßen von Manhattan
Description: This is an enjoyable flick about hookers. But what film about hookers isn't enjoyable? Not too dissimilar from Vice Squad, Streewalkin' is an evening in the life of a young hooker running from her killer pimp. It's got a great cast with Antonio Fargas (Foxy Brown), Leon Robinson, Julie Newmar, Greg Germann, a very young Randall Batinkoff, Dale Midkiff (who starred in Heatwave) and Melissa Leo and her tiny titties.
Here's what you get:
Killer Pimps
Prostitutes
BOOBIES!!!
Less Than Respectful Treatment of the Ladies
HUGGY BEAR!!!
Strippers
THAT DUDE FROM BAND OF THE HAND!!!
Pimp Attire
Times Square of Yesteryear
Personally I find the editorial content suggesting that the life of a hooker is less than fully consensual and glamorous a bit off putting.  Further, the film fails to fully appreciate that it's hard out here for a pimp, when he tryin' to get this money for the rent, for the cadillac and gas money spent, will cause whole lot of bitches jumpin' ship.  So basically I'm just axin' for a little understanding.  In any event, it's a gritty, enjoyable drama about life on the streets for a young hooker trying to care for herself and her little brother in a world full of sexual deviants and crazed, jealous, killer pimps.  Good flick and decent commentary to boot.

Screenshots:
Download: