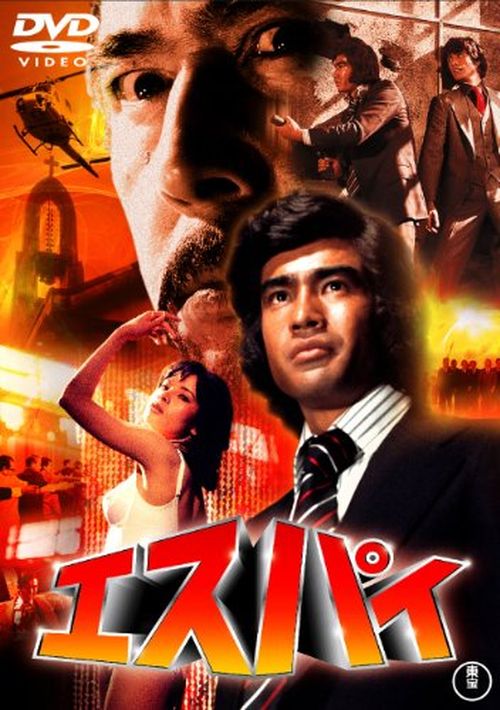 Year: 1974
Duration: 01:34:26
Directed by: Jun Fukuda

Actors: Robert Dunham, Hiroshi Fujioka ,Steve Green

Language: Japanese( English subs)

Country: Japan

Also known as:E.S.P./Spy, Espy minaccia extrasensoriale, Esupai, La guerra de los poderes ocultos
Description: As typical of most Fukuda films, this one plays like it's half finished, with a directionless plot that does little more than an embarrass an otherwise competent cast. Loosely based on a novel written by Sakyo Komatsu (pop SciFi write, best known for his self-directed Sayonara Jupiter in 1985), this one is a psychic actioner about a bad ESP syndicate planning to kill world leaders through mental telepathy. The good guys are a top secret group called ESPY (a cutesy Japanazation of ESP and SPY) and they're in charge of stopping the killer psychics.
Hiroshi Fujioka, one of the original Kamen Riders, does everything he can to save the movie, but it's not enough. Veteran actor Tomasiburo Wakayama looks like he'd rather be visiting the dentist. And Kaoru Yumi, a former professional classical dancer, has a chance to strut her stuff in an erotic dance sequence–wildly out of place in this film.
In the wake of the success of THE SUBMERSION OF JAPAN, makers of Japanese sci-fi thrillers rushed to get similar material into theaters.  This low-budget Toho quickie was adapted from a book by Sakyo Komatsu, the novelist responsible for SUBMERSION OF JAPAN.  The handsome young lead, Masao Kusakiri, would later play the heroic lead in another Sakyo Komatsu adaptation, VIRUS (also known as DAY OF RESURRECTION).
It's kind of like THE X-MEN, in that there's a bunch of mutants with superhuman abilities, and two rival mutant leaders go around recruiting these folks for their respective armies.  One side wants to use their paranormal psychic powers to rid the Earth of norms and inaugurate a golden age of mutant, while the ESPY side wants to use their powers to defend humankind from such threats.
It's unlike THE X-MEN in that ESPY manages to take this promising premise and make it thuddingly dull.  But, if you want to see the makers of 70s era Godzilla trying something else, then here ya go.
This rip is from the long out of print Paramount VHS edition, panned and scanned and subbed in English.
Screenshots:
Download: