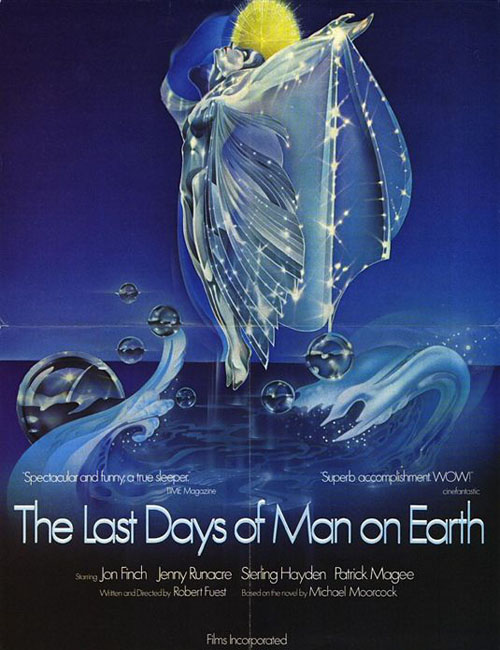 Year: 1973
Duration: 01:25:40
Directed by: Robert Fuert

Actors: Jon Finch , Jenny Runacre , Sterling Hayden

Language: English
Country: UK
Also known as:O Programa Final , Supersankari , Les décimales du futur , Satanikos engefalos , Alfa Omega – Il principio della fine , The Last Days of Man on Earth, Verrückt und gefährlich.
Description: After the death of his father, Nobel laureate Jerry Cornelius, embarks on a desperate search for a microfilm that contains the "Final Programme", his father left. It aims to create a perfect human body. Jerry lives in the house crazy junkie brother Frank, who is the microfilm. When Jerry tries to take the film, his beloved sister is killed in a bizarre accident. Jerry seeks the help of the mysterious Miss Brunner, a charming bisexual who has a bad habit of killing his lover after a night of love. After many adventures Jerry goes to Lapland, where Miss Brunner and three strange scientists plan to run the "Final Programme" to obtain a new Messiah …
Sophisticated fiction film, staged by the famous product of science fiction Michael Moorcock. Too fussy, unnatural, and in the end even a little boring. Sort of a mixture of "A Clockwork Orange" (1971) Stanley Kubrick and "Food" Luininga. But what distinguishes the picture of the above works, it's the dialogue, filled with strange dark humor. Moorcock himself hates this movie and considers it a perversion. Mick Jagger could play in it Jerry Cornelius, but later refused, as the scenario considered too strange and complicated. Actor Sterling Hayden has a picture of a scene. John Finch, shortly before filming replaced by Timothy Dalton. In the U.S., the picture was released by Roger Corman hire «New World Pictures» under the title "The last days of man on earth." At the International Film Festival in Avoriaz film won the Special Jury Prize (together with the film «The bed sitting room», 1969).
Screenshots:
Download: