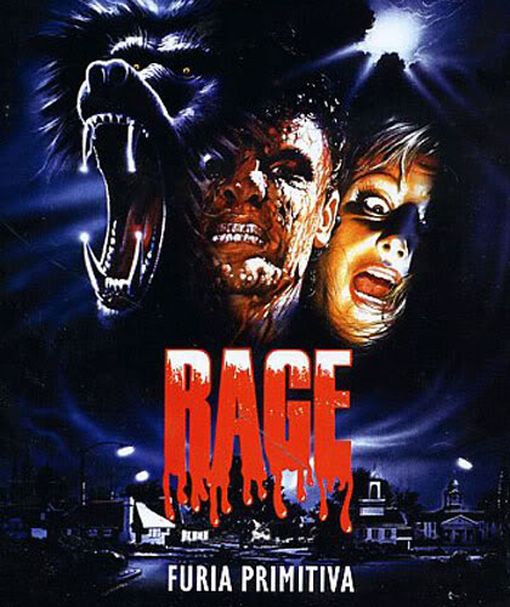 Year: 1988
Duration: 01:27:28
Directed by: Vittorio Rambaldi

Actors: Patrick Lowe, Cheryll Arutt, Sarah Bruxton

Language: English
Country: Italy, USA
Also known as: Animal Rage, Basic Terror, Fúria Primata, Pedon vaistot, Primal Rage , odjurets instinkt,
Description: This goofy late-80s Italian Horror film could be described as a really cheap, retarded,teen oriented, small-scale version of 28 Days Later… except nowhere near as good, and did i mention retarded?
We follow the exploits of a moped-driving college newspaper reporter (always a chick magnet) whos nerdier, but apparently bad-boy, reporter buddy accidentally releases a test monkey (or whatever it is) and gets bitten, while trying to get a scoop. He becomes infected by a virus that makes him very violent, super strong, drool blood, and slightly be mutated (kind of boiled-covered, but not too much). Soon the virus spreads, and its up to our hero and his new girlfriend to stop this from becoming an epidemic.
The best part is the trio of douchebags who become infected after trying to gang rape an infected girl (in the gayest gang bang sequence you've ever seen with a woman as the victim), and go on a killing spree dressed like a cross between Killink and the bullies from Karate Kid, and ride around in a convertable.
This film is from the team behind Nightmare Beach (aka Welcome to Spring Break): Vittorio Rambaldi and Umberto Lenzi, with Vittorio taking on the directorial role this time.
Review: Vittorio Rambaldi, who also worked with Umberto Lenzi over slasher «Nightmare Beach» (only as a writer), he made the film is quite mediocre. The reason – lack of quality of work of the Director in the genre «horror».
Despite the fact that the script was written by the master of the Italian branch of the genre «horror» Umberto Lenzi, the movie is unleavened. The picture is clearly not enough sharpness. Blood here so small that I can not believe that the film was shot by the Italians. Of course, the excess of the bloody scenes, too, sometimes adversely affect the film, but in this case, he was transfigured would be better, be more rigid. Therefore, in this picture turned out a little bright and memorable moments.
The acting is pretty good and however, the film "Primal Rage" looks easy, like many other horror 80-H. Good conveyed the atmosphere of those years. From a family Rambaldi better all coped with his task Carlo Rambaldi. Indeed, high-quality work of makeup there is noticeable. But I was most pleased musical accompaniment, and it is a merit of Claudio Simonetti – talented composer, Creator of the soundtrack for such masterpieces of the Italian horror film as «Suspiria», «Shiver», «Demons», and the paintings of the «Dawn of the dead» and many other horror movies.
Screenshots:
Download: