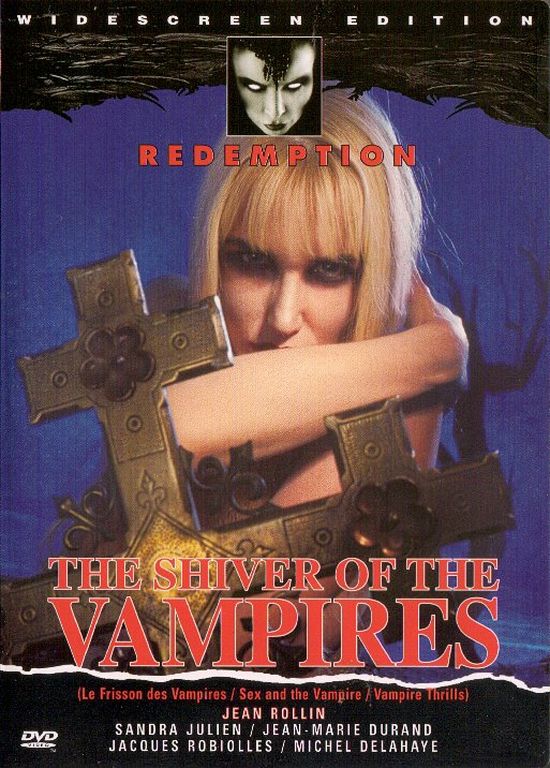 Year: 1971
Duration: 01:36:03
Directed by: Jean Rollin
Actors: Sandra Julien, Jean-Marie Durand, Jacques Robiolles, Michel Delahaye, Marie-Pierre Castel
Language: French (English subtiltes)
Country: France
Also known as: Strange Things Happen at Night, Le frisson des vampires, Thrill of the Vampires, The Terror of the Vampires
Description: Erotica, vampire horror, surrealism. One of the most stylish movie directed by thrash 70 Jean Rollin. Lesbian love, vampire theme, costumed performances, beautiful young woman, a surreal story – a complete set of this classic film 70.
Review #1: It is extremely strange film. Rollin in this flick was trying to please and the fans of trash and the fans of gothic horror. In the end, he was in the middle between these varieties of the genres and have not made a single step in the direction of any of them. Therefore, the fans will be only disappointed.
Judge by yourself. For trash, we have crazy scenario in an amicable delusional heroes and psychedelic atmosphere of the seventies. Lacks only one thing: the dynamics of action. In the film, all of which are devoted to a half hour leisurely sucking the life out of the victim, and you can get bored. Rollin is trying to diversify the plot occasionally with appearing of a naked ass, but those are showing too slowly to interest for a long time.
On the other hand, we see a beautiful and very stylish film, with all the gothic relying attributes – the castle, the cemetery, and finishing with machinery (special effects). But under pressure from a script it falls to the individual episodes, which remain in memory after viewing. Perhaps because of just such moments, "Shiver Of The Vampiress" do not cause a clear rejection.
Review #2: It has been long when I wanted to see something from Rollin movies – this director is from cohort of those who are worth a look for fun. To a certain extent equivalents to Rollin – are Russ Meyer and Jess Franco, the people who, like Rollin, wanted to make the audience a completely different experience than achieved. If, for example, an early Waters consciously put a silly trash to offend one audience, and attract another one, the above-mentioned directors wanted to do something serious and stylish, but it turned out almost always stupid, because they were led up by two things: the lack of directorial talent (one desire to withdraw, it is not sufficient), and sexual concerns.
When are you just want to shoot naked women, but admit it is inconvenient, it is necessary to adjust for this scenario and so forth, and the movie from just a fool one turns into a stupid. In addition, the most primitive scenarion Rollin managed to confuse with some theoretical kabbalah, so that he got confused by himself. Some of the actors, as expected, outperform, others do not play, the operator lives his life and everything that happens gives me a healthy laugh. The film can be described as extremely absurd, but to recommend it to fans of thrash metal is difficult: it is a bit lacking with trash moments. And, for the ridiculous reason: Rollin Frenchman and he, ironically, has the rudiments of style. Decide for yourself.
Screenshots:
Download:
Shiver Of The Vampires (Le Frisson Des Vampires)