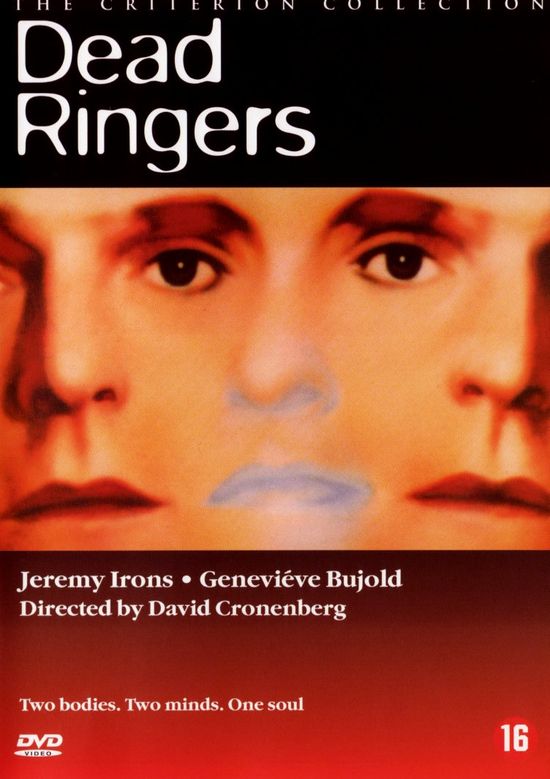 Year: 1988
Duration: 01:55:14
Directed by: David Cronenberg
Actors: Jeremy Irons, Geneviève Bujold, Heidi von Palleske
Language: English
Country: Canada|USA
Also known as: Gemini, Alter ego, Die Unzertrennlichen
Description of Dead Ringers: Two bodies. Two minds. One soul. Mantle brothers – absolutely identical twins. Both are doctors and work together. Elliott (Lolita) is more skilful than Bev in seducing women and willingly "gives" to brother his women, who are not even aware of "substitution." But when their clinic visits a movie star Claire, shy Bev falls in love with her ​​first. Clare, without even knowing it, begins to meet with the two brothers. Will they be able to "share" the woman he loves, or trying to find solace in drugs and alcohol, plunge into the abyss of madness?
Review: One of the famous horror movie directors, Canadian David Cronenberg (Videodrome), said that in his film 'Dead Ringers"(the literal translation of the name" Gemini "or" Dead Ringers ", which are common to us all the same precise) wanted to do without the nightmares For indescribable fear must be contained in the situation itself. The basis of it was taken by the novel "Twins," which was released in 1977 and indirectly reminded the real story of twin brothers Stewart and Cyril Marcus – doctors who committed suicide two years earlier. But the habit director added to this story a couple of fantastic inventions (this time – from the field of gynecology) and introduced into the tape image actress Claire Nivo, which in turn make love two twin-gynecologist – Beverly and Elliot Mantle.
First of all, involves trying to understand Cronenberg's philosophical problem of the relationship of twins, the degree of their influence on the fate of each other and a sort of exchange of individuals between them. But the finale of the story too profundity, mystical and, incidentally, a bed and naturalistic. Despite the assurances, the director was not able to hold any demonstration of blood, nor of the scenes nightmares. Curiously, his "research" in the field of gynecology able to produce the shock effect is on the spectators. A British actor Jeremy Irons starring roles in two twins had doubts before starting work, for fear that the movie will not escape the bad taste. In part, it came to pass, although over the years the Canadian "master of horror" was becoming more sophisticated and philosophically, as is possible in such works. It is not moved to create more estetskih dramas, including adapted for the screen, again featuring Irons, the well-known play "M. Butterfly "about another true case of" total identification "when a man many years managed to impersonate a woman.
Screenshots:
Download: