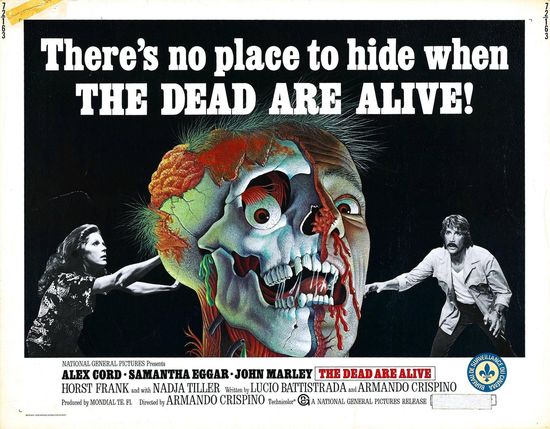 Year: 1972
Duration: 01:41:38
Directed by: Armando Crispino
Actors: Alex Cord, Samantha Eggar, John Marley                        
Language: English
Country: Italy| West Germany| Yugoslavia
Also known as: L'etrusco uccide ancora, Das Geheimnis des gelben Grabes 
Description of The Dead Are Alive movie: Professor Jason Porter (Alex Cord – Inn Of The Damned and Jungle Warriors movies) is an archeologist leading an excavation at ancient Etruscan burial grounds near Spoleto. He is an alcoholic, who is trying to revive his relationship with his ex-girlfriend Myra (Samantha Eggar), but she has moved on. She is now married to Nikos Samarakis (John Marley), famous yet tyrannical orchestra conductor, who is much older than her.
A young couple is brutally murdered, clubbed to death by an unseen figure. The killer leaves a pair of red high heels, stolen from theatre group for which Nikos is conducting, at the crime scene and positions their bodies like they were to be an offering to the Etruscan gods. Police contact Jason for his expertise, but when Jason finds the bodies of another couple and the police learn about his violent past, he becomes the prime suspect in the investigation lead by inspector Giuranna (Enzo Tarascio). Is Jason truly capable of murder in drunken stupor or perhaps Nikos went overboard with one of his infamous violent fits? The killer could be also Nikos' clingy secretary Irene (Daniela Surina), his clandestine ex-wife Leni (Nadja Tiller) or their son Igor (Carlo De Mejo). Perhaps Otello (Vladan Milasinovic), whose job is to guard the Etruscan ruins, graduated from torturing insects to murder. It could also have been theatre group's sardonic homosexual choreographer Stephen (Horst Frank). He had easy access to the red shoes after all. Realising that he is between a rock and a hard place, Jason tries to find his way out of the mess by exposing the killer.
Review: story of «L` etrusco uccide ancora »tangled so that the interest of all of its intricacies unabated until the last minute, and even a very clumsy acting and at times frankly grotesque characters (such as, for example, the maestro Nikos Samarakis like a come-from what a comedy about a mad musician) do not interfere with the pleasure of receiving a virtuoso invented intrigue and unexpected turns. So, the lack of Etruscan mummies and even a little bit sorry for the zombies lying around is not particularly necessary. Just once – one would handle a maniac. Especially because this is clearly a maniac was behind the director's console and wrote the script.
Screenshots:
Download: