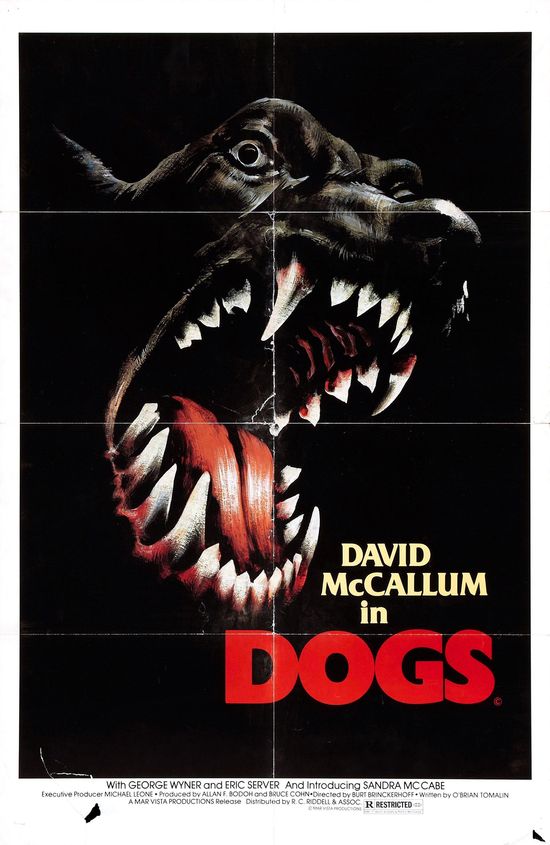 Year: 1976
Duration: 01:30:24
Directed by: Burt Brinckerhoff
Actors: David McCallum, Sandra McCabe, George Wyner, Eric Server and Linda Gray
Language: English
Country: USA
Also known as: Dogs – Questo cane uccide!, Killerhunde, La rebelión de los perros, La rebelión de los perros, Les chiens fous, Slaughter
Description of Dogs movie: In a quiet campus strange things begin to happen – dogs yesterday cute and docile, go wild, gather in a pack and start attacking their former masters.
Review: After spiders , frogs, rats, flies , cats, monkeys , sharks , wasps, leeches and other creatures were not ignored the dogs , man's best friend . Dogs abound in the film , all kinds and breeds , united only by their desire and aggression by all means to kill people. However, people are not so defenseless creatures as would be expected of their best friends .
The best scene in the movie , I think the scene in the shower, obviously borrowed from Hitchcock. And last kadriki with cat, opening her mouth and singing ' : " I ​​- Mn – ny ! " Horror movies are famous for such ends , because with them much easier to remove continue.
Also I liked the game the main actors – the dogs . Unlike humans , they played great. The behavior of the people , I have been laughing as for example, students opting out of the relatively safe room to move to the library , despite the express prohibition. What I love horror movies , so that the absurd behavior of the characters .
Screenshots:
Download: