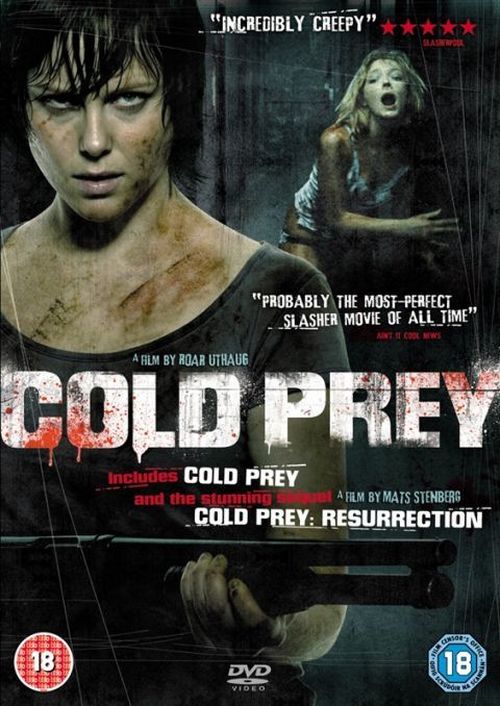 Year: 2006
Duration: 01:33:30
Directed by: Roar Uthaug
Actors: Ingrid Bolsø Berdal, Rolf Kristian Larsen, Tomas Alf Larsen and Endre Martin Midtstigen
Language: Norwegian (English subs)
Country: Norway
Also known as: Fritt vilt, Hotel zla, Kallt byte, Presos no Gelo
Description: In the middle of winter, a group of young people went to Yutenheym, to ride on snowboards. As a result of the accident, one of them broke his leg and they were in a difficult position, because there were no people around, and there was no signal on the phone. In the mountains they came upon an abandoned hotel, and from there they could not call for help, so long as the phone line is out of order. It became clear that they would have to spend the night at the hotel, but at night they saw that are not alone ..
Review: Slasher genre is inherently not serious enough. But, recently began to appear films which, anyway, do not support this assertion. Really is "Lost." In other embodiments, the film is called "Cold Prey".
Norwegian film is probably why he got so good. Norwegians with their fresh ideas and objective look at the film managed to breathe new life into the long-familiar to any plot.
A group of young people go to the mountains snowboarding. Suddenly, one of them breaks a leg, and the company is forced to stay in an abandoned hotel on the mountainside. However, they did not know, although it's a terrible maniac who loves to hunt for people with an ice ax in his hands …
Virtually everything in the film is wonderful: and directing, and acting, and camera work, and scenario – everything. Here's how to be a true slasher!
We would also like to praise the maniac he is gorgeous. He has a terrific knives, awesome costume and quite original creepy mask. It shows is really quite scary. In the best traditions of "old school."
In the film, there are also beautiful landscapes, from which it is simply impossible to look away!
Music just at the highest level! Long monotonous melodies that give the film a special flavor and are used to inject suspense, fit perfectly into the atmosphere of hopelessness, which were the main characters.
We were pleased with the work of the operator. All filmed well, no shaky camera, you can see everything. Especially to be noted, as shown scenes of the first death – this is truly a brilliant director and operator find!
I liked "Cold Prey" for the fact that the maniac out there killing people just like that, for no apparent reason – and this film once again proves his right to be on a par with the best modern slasher!
Screenshots:
Download: