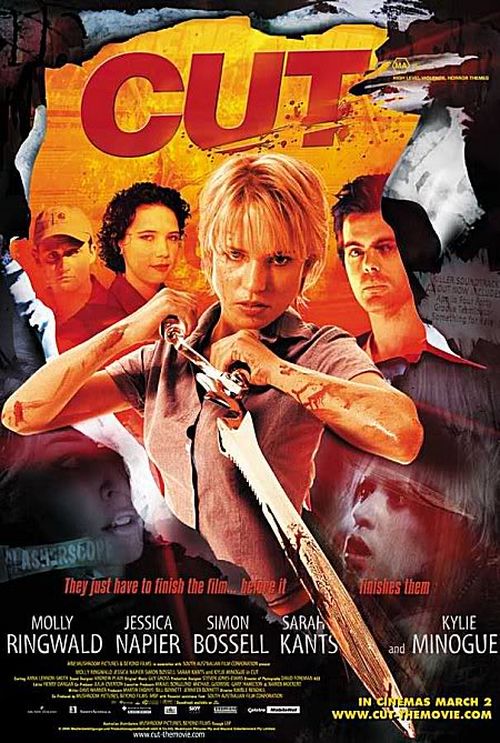 Year: 2000
Duration: 01:22:37
Directed by: Kimble Rendall
Actors: Molly Ringwald, Frank Roberts, Kylie Minogue, Geoff Revell and Jessica Napier
Language: English
Country: Australia | Germany | USA
Also known as: Cut (Corten), Cut – Il tagliagole, Megvágva, The Curse
Description: Raffy (Jessica Napier) and her film student friends attempt to resurrect a low budget slasher film that ended production when the director, Hillary Jacobs (Kylie Minogue) was killed. Before they get very far the succeed in resurrecting the supernatural killer that brought an end to film's first production.
Review: The film "Cut" is made by all the rules of the genre: a lot of unexpected moments, a serial killer, which do not take the bullet, and double-miracle escapes victim of…
In addition to the brilliant ideas with the original situation of what is happening chaos, which distinguishes the film from a variety of classical subjects, the picture is actually impressive performance of the actors and the presence of many interesting philosophical conclusions concerning the role of horrors in our lives.
Another nice thing is the music. The guys from Mashroom Pictures not become bother using songs Marilyn Manson or Ozzy Osbourne, which would be well suited to this picture, at least on similarity of appearance vocalists groups and the main hero of the picture, and write yourself wrote the tracks in no way inferior to thrash masters.
Nerves damaged, ears enjoyed the sounds, brain got food for thought – film task fulfilled!
Screenshots:
Download: