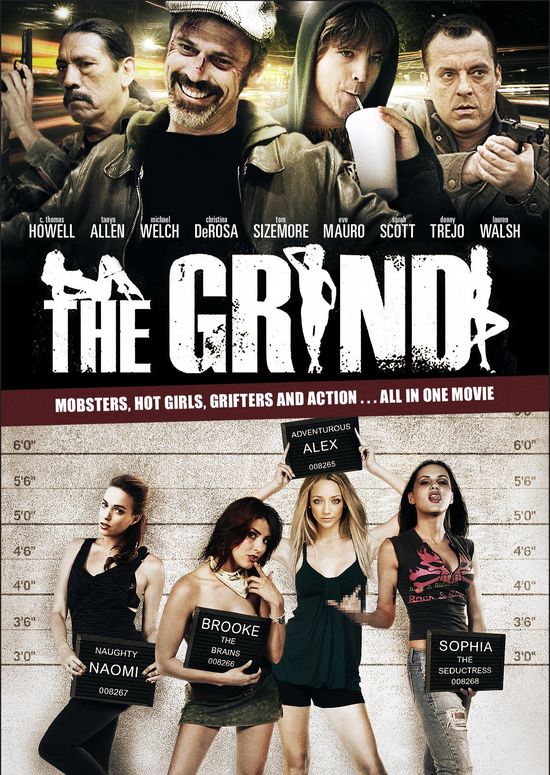 Year: 2009
Duration: 01:28:13
Directed by: John Millea
Actors: C. Thomas Howell, Michael Welch, Tanya Allen
Language: English
Country: USA
Also known as: Grind money

Description: Unlucky Luke and computer genius Josh find an easy way to earn good money. They come up with Online reality TV show called "The House of hot girls».  Luke has the last chance to get rid of his gambling debt, which was recently sold y his bookie to one mob boss.
Finding girls to participate in the project is easy enough, but Luke needs more cash. Therefore, he accepts an offer from a local criminal Chuck Kappa to steal and sell the credit card information of website visitors to get more grind money. Live show is becoming sexier, it's rating is growing. Luke encourages girls cash for provocative behavior directly in the network: the girls are beginning to compete against each other, competing for viewers.
Competitions are becoming more dangerous. One of the girls was killed right in front of monitors, and then Luke and Josh realize that they have gone too far and now nothing depends on them …
Review: Just watched the movie Grind. I liked it. It seems to be like the story is not particularly zamudren, and generally not very clever by half. but damn the tension holds the only way. And looks pretty fast. Maybe because it is only 85 minutes? Probably.
To be honest apart from Danny Trejo of the actors do not know anyone. But I think that's a plus. It's great when the film is at least a couple of unfamiliar faces.
Everything is made and filmed in my well – grind is dirt.
Of course this could make detective. But the questions of "Who's Who? What for? "Remain unanswered and better. They just do not need that's all. Just crime and we must admit is quite brutal story about friendship. No well be the same with a positive finish.
Review 2: The plot of the film "The Grind" is as simple as single-celled: petty crook turns out to be Luke's not that big, but the amount representatives of the criminal world. If in 8 days Luc will not collect much-needed dollars to all, it will cut the eggs. It is clear that to become a castrato Farinelli, rumor and humor avid music fans, our hero is going. And they need money. So he comes up with the idea to organize the online reality show in which the main participants will not simpletons of "House-2", and only girl. So what!
Girls for the show picked up on the street, and even creep up something different. Here and prostitutes, and drug addicts, and criminals, and generally do not play well with the brain and with various dubious personalities. The fact that this book, most of them heard in infancy from a nearby grandmother, and that firsthand. In short, all the girls grated life, sex milled and packed in a cheap show. With the fate of the troubled ladies all were. And the blame for their dysfunctional fate, of course, the men who, as you know, the bastards.
The girls settled down in the reality show, got used to each other and to the account of the producer began receiving bank notes. Gradually, however, a lady came in to talk and replaced erotic merry merrymaking came .. . I will not say who came.
The main role in the film played C Thomas Howell. Adventurous uncle, he played pretty well. Another of the famous were seen Tom Sizemore and Danny Trejo. Them on the screen was a little bit, and they sort of are, but they kind of do not. Other actors, including hand-picked from the street and sent in a reality show girls .. . Well, so-so. Girls mostly priests showed, so I could not see their talents, if any.
The soundtrack to the film is even nothing, you can listen to. The camera work raises no objections. The operator probably realized that the member of the girls show the same actress as of Anna Semenovich so focused mainly on different parts of their slender corporal. Put a plus sign.
Verdict: The movie can be viewed once, but no more. Nothing special in it. As for the evening entertainment kin quite pull.
Screenshots:
Download: