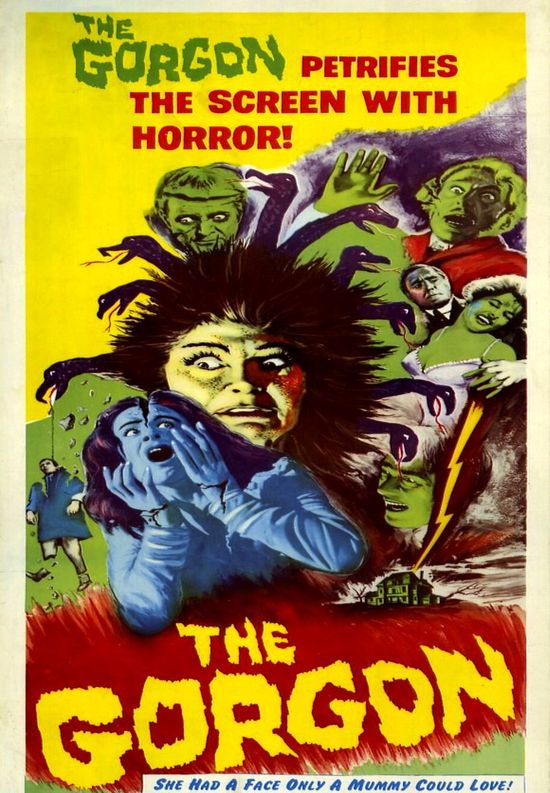 Year: 1964
Duration: 01:23:19
Directed by: Terence Fisher
Actors: Christopher Lee, Peter Cushing, Richard Pasco and Barbara Shelley
Language: English
Country: UK
Also known as: A Górgona, A Morte Passou Por Perto, Die brennenden Augen von Schloss Bartimore, El castillo de la Gorgona, Förstenad av skräck,
Description of the Gorgon movie: Residents of a village in central Europe began to turn to stone. Because of the terrible curse of a local girl turns into a terrifying creature with snakes on his head. Medusa leaves his dark castle, and anyone who looks at it, turns to stone. Two scientists – Professor and Professor Meister Namaroff – solve this puzzle with the help of hypnosis.
Review: Almost everyone remembers the myth of the three Gorgon sisters , one of whom was named Medusa. Being a beauty, she attracted the ruler of the seas , Poseidon , who shamelessly took her to the temple of Athena . Goddess was furious and turned Medusa's beautiful hair into snakes poor . Who is to blame in that it has become a victim of the monster ?
And now, after the millennium curse the poor woman can be transmitted any other miserable. What happens with one of the inhabitants of the European town.
– I believe in the existence of all that the human brain can not disprove or prove that one of the characters says , trying to explain his desire to get to the truth occurring strange and terrible events in the town. Then, as the people themselves do not want to know the truth.
For a modern , sophisticated audience , the film may seem too simple, powdery dust years. But this is not confuse moviegoers , it will be something to see a quiet winter evening . And I'm sure that at the current opportunities , would have made a very bad not a remake .
Screenshots:
Download: