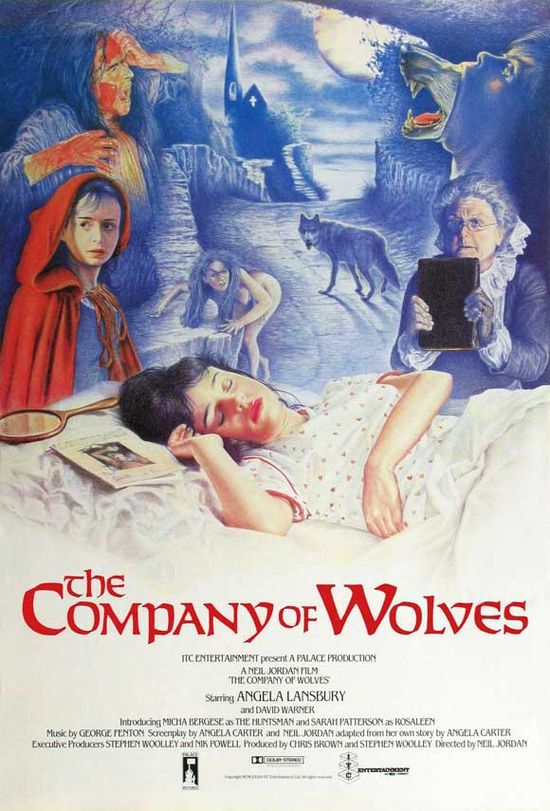 Year: 1984
Duration: 01:31:19
Directed by: Neil Jordan
Actors: Angela Lansbury, David Warner, Graham Crowden, Brian Glover, Kathryn Pogson and Stephen Rea
Language: English
Country: UK
Also known as: A Companhia dos Lobos, A Companhia dos Lobos, Die Zeit der Wölfe, En compañía de lobos, In compagnia dei lupi, La compagnie des loups
Description: On the one hand, " The Company of Wolves " – a modified tale of Little Red Riding Hood . But Neil Jordan did not stop the story of good and evil, with the consequent straightforward morality. Coupled with a fabulous plot of the film presents the psychological subtext. In the roundabout way the director shows us the spiritual aspect of the process of growing up. Feelings , emotions, feelings experienced by the girl appear in the form of symbols and allegories. The entire film consists of hints and allusions .
The main heroine of the film has a dream , which will be devoted to the further subject of the picture . Wolves kill her sister. And Rosalyn visiting her grandmother told her about those "who had grown hair from within." These wolves can be recognized by people Conjoined eyebrows . If a wolf kill you – he will carry off your soul to hell . Then one day , a little grown-up Rosalyn , dressed in a red shawl , is coming off the trail in the woods and meets a stranger with a fused eyebrows , who proposed a bet with a girl – who are quickly comes to Grandma's house …
It must be said , despite the effects of obsolescence in the opinion of the modern viewer , the picture does not look too old visually. Dolls are used instead of animals , the scenery is not realistic shine , but the film is very interesting to watch . I would say that such a situation creates the spirit of fairy tales present in the film. By the way, I probably never met a more frightening transformation of man into a wolf – given the limited technology of the time . Terrifying.
" The Company of Wolves " – a film that can make you think . The picture , which has a magical atmosphere . One of those films that can be presmatrivat n-th number of times, but to find something new with each viewing. Very interesting to see the fantastic story about a girl and a werewolf . Even more interesting to guess the meaning of each character's actions mark.
Filmed by director of The Miracle movie.
Review: This film is already on the tracker but a few users were interested in the director's commentary on the re-release so.. this is the latest release of the film incliding the commentary as a selectable audio track.
A modern day Grimm fairytale with a spattering of coming-of-age symbolism, The Company of Wolves is a visually stunning film based on the late Angela Carter's book 'The Bloody Chamber'
As a kid, the thing that stayed with me most was the lavish set, organic clutter, passionate score (maybe a little over the top sometimes), and mtryoshka-doll style narrative. The set designs are excellent for a film on a budget – teeming with a musty life – and I think it would entertain just as much with the sound down.
The distributors miss-sold it as a horror film to jump on the tail of 'An American Werewolf in London' which is a shame because I don't think it wears that description well. There is an interesting slant on the man-into-wolf transformation though, which was pretty horrific (but *very* animatronic looking & one of the weak moments of the film.)
Screenshots:
Download: