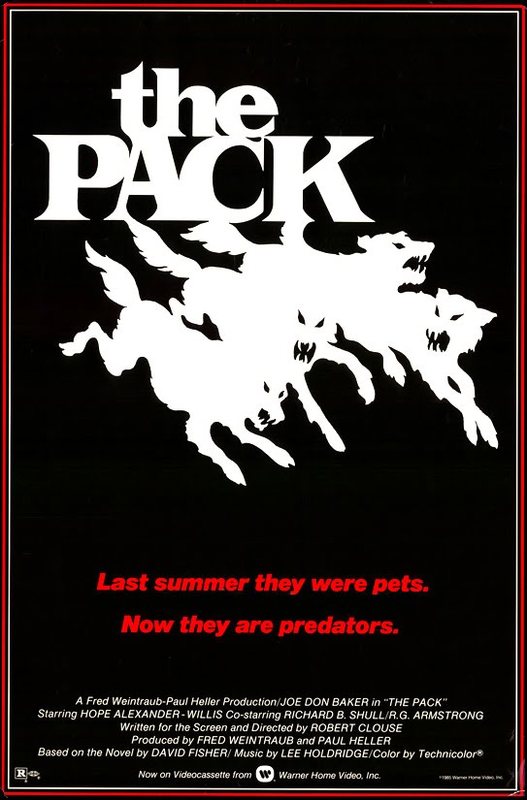 Year: 1977
Duration: 01:38:52
Directed by: Robert Clouse
Actors: Joe Don Baker, Hope Alexander-Willis, Richard B. Shull, R.G. Armstrong and Ned Wertimer
Language: English
Country: USA
Also known as: A Longa Noite de Terror, De blodtörstiga, La larga noche de terror, Paczka, The Long Hard Night, The Long, Dark Night
Description: Joe Don Baker fends off a pack of killer dogs in this forgotten gem. "Last summer they were pets. Now they are predators."
Review: ROBERT CLOUSE'S 1977 MAN VS ANIMAL FILM, THE PACK STARRING JOE DON BAKER, HOPE ALEXANDER-WILLIS, RICHARD B. SHULL, R.G. ARMSTRONG, NED WERTIMER, BIBI BESCH, SHERRY MILES AND PAUL WILLSON.
POSSIBLY DIRECTOR CLOUSE'S BEST MOMENT (ALTHOUGH SOME WOULD ARGUE ENTER THE DRAGON WAS TOPS), THE PACK TAKES DAVID FISHER'S BETTER NOVEL (WITH A SCREENPLAY BY CLOUSE) AND INTRODUCES THE WORLD TO THE FATHERS/UNCLES AND BROTHERS OF CUJO.
LOTS OF DUMB ILLOGICAL MOMENTS MAKE THIS LATE 70's FLICK ALL THAT MORE ENJOYABLE. WHY DOESN'T JOE DON JUST SHOOT THE DOG INSTEAD OF POKING IT WITH HIS SHOTGUN?? DON'T KNOW. BUT WHO CARES. YOU WANNA SEE LOTS OF SNARLING, FANGY DOGS LOOKIN' MADDER THAN HELL, THIS ONE'S FOR YOU. THIS SURPRISINGLY WELL MADE AND SUSPENSFUL ENTRY INTO THE MAN VS. ANIMAL ARSENAL HAS SOME OF THE BEST DOG ATTACKS EVER PUT ON SCREEN. THE CAR SCENE PREDATES CUJO BY A FEW YEARS AND WHILE THAT FILM HAD ONE DOG, THIS ONE'S GOT A FUCKIN' PACK. SUCK THAT STEPHEN KING!
Screenshots:
Download: