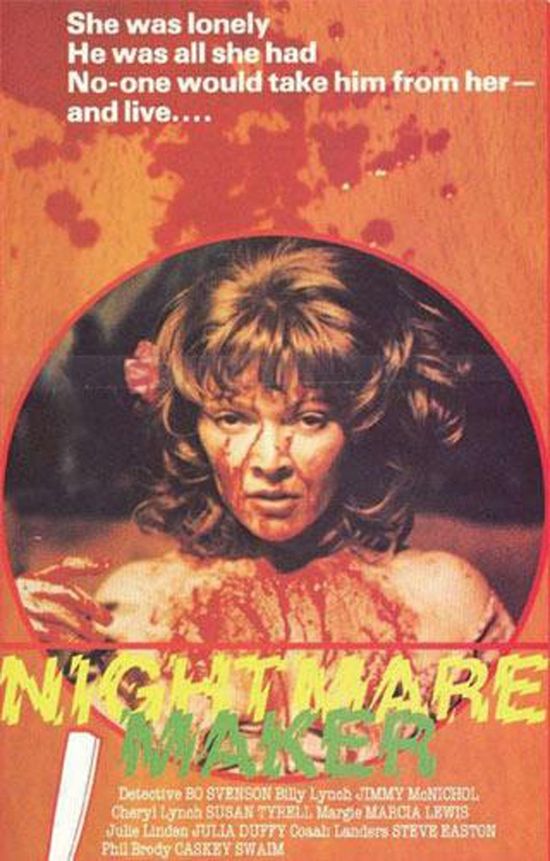 Year: 1982
Duration: 01:32:42
Directed by: William Asher
Actors: Jimmy McNichol, Susan Tyrrell, Bo Svenson
Language: English
Country: USA
Also known as: Butcher Baker Nightmare Maker, Momma's Boy, Nightmare Maker, Pelko, À la limite du cauchemar, The Evil Protege, Thrilled to Death, Mrs. Lynch
Description of Night Warning: A truely bizarre entry in the history of horror film. It gained notoriety as one of the  first films who were branded in the UK as 'video nasties' in the early 1980s. The missing link between the slasher genre and the suburbia horror of the "Night mare on Elm Street" films. This monster is one of its kind: Susan Tyrrell (Avenging Angel) gives a terrific over-the-top performance as an overprotective housewife who wants to get in her nephew's pants. A slasher film with tv drama looks, directed by a true television maverick. It's unbelievable!
Code Red announces the dvd release of this flic for quite a while now but keeps postponding. Considering the label's history with delaying release dates, I thoght I share this anyway.  Let's hope, the dvd comes rather sooner than later. However, this vhs rip (not mine!) looks really good.
Review: After the death of his parents in a car accident Billy Lynch continues to live with his aunt Cheryl. One day Billy tells her he is going to travel to competitions in basketball at the University of Colorado with his girlfriend Julia. Aunt Cheryl upset welcomed the news that the remains one, and gets jealous guy to Julia. Once she invites masters fix a faucet.
Suddenly she happens to fit of rage, and she vent anger at the killing him. Returned from College Billy aunt Cheryl says that it was because the working wanted to rape her. She asks Billy confirm this police arrived. Detective Joe Carlson believes Billy homosexual, who had connections with the coach of his basketball team. He suspects that killed the working Billy…
Screenshots:
Download: